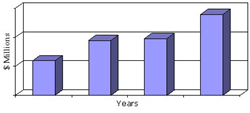 Global Market for Advanced Battery and Fuel Cell Material to Reach $27.9 Billion in 2019
(PRWEB) August 25, 2014
BCC Research (http://www.bccresearch.com) reveals in its new report, ADVANCED MATERIALS FOR ADVANCED BATTERIES AND FUEL CELLS: TECHNOLOGIES AND GLOBAL MARKETS, the global market for advanced and battery fuel cell material reached nearly $19 billion in 2013. This market is expected to grow to $19.6 billion in 2014 and $27.9 billion in 2019 with a compound annual growth rate (CAGR) of 7.3% for the five-year period, 2014 to 2019.
Advanced batteries and fuel cells are used throughout the world to provide power to portable products, portable and stationary power supplies, uninterruptible power systems, military equipment and vehicles. They represent widely used mature markets and emerging (but potentially gigantic) new markets.
During the five-year period between 2014 and 2019, the "hybrid electric battery and electric vehicle battery" will begin to shift from these nickel metal hydride batteries to lithium batteries. By 2019, these lithium batteries should increase to nearly a billion dollars annually. This growth is due to increased portable product use (especially smart phones, tablets, and next-generation wearable products), new stationary battery applications, and increased hybrid vehicle and electric vehicle use.
"The battery and fuel cell industries have largely weathered the global recession and are poised to begin unprecedented expansion based on increased demand, opportunities to commercialize new technologies, and new applications and markets," says BCC Research analyst Donald Saxman. "Battery and fuel cell demand have revitalized a number of raw material markets, and many material suppliers are counting on new battery and fuel cell markets to drive growth."
ADVANCED MATERIALS FOR ADVANCED BATTERIES AND FUEL CELLS: TECHNOLOGIES AND GLOBAL MARKETS examines the global market and growth projections for advanced battery and fuel cell materials for the period 2014 through 2019. The report provides an overview of specific advanced battery and fuel cell technologies in terms of market value, number of units shipped, and types of materials used. An extensive set of advanced battery and fuel cell material supplier profiles is provided, along with a summary of contact information for the battery and fuel cell companies that use these materials.
Editors and reporters who wish to speak with the analyst should contact Steven Cumming at steven(dot)cumming(at)bccresearch(dot)com.
About BCC Research:
BCC Research publishes market research reports that make organizations worldwide more profitable with intelligence that drives smart business decisions. These reports cover today's major industrial and technology sectors, including emerging markets. For more than 40 years, we have helped customers identify new market opportunities with accurate and reliable data and insight, including market sizing, forecasting, industry overviews, and identification of significant trends and key competitors. We partner with analysts who are experts in specific areas of industry and technology, providing unbiased measurements and assessments of global markets. Our clients include the top companies in industries around the world, as well as universities, business schools, start-ups, consulting firms, and investment companies. BCC Research is a unit of Eli Research LLC. Visit our website at http://www.bccresearch.com. Contact us: (+1) 781-489-7301 (U.S. Eastern Time), or E-mail information(at)bccresearch(dot)com.
Data and analysis extracted from this press release must be accompanied by a statement identifying BCC Research LLC, 49-2 Walnut Park, Wellesley, MA 02481, Telephone: (+1) 781-489-7301; E-mail: editor(at)bccresearch(dot)com as the source and publisher.