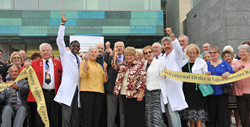 The Fraternal Order of Eagles Diabetes Research Center is one of the most visionary projects I've ever encountered.
Iowa City, IA (PRWEB) August 25, 2014
The University of Iowa celebrated the dedication of the Fraternal Order of Eagles Diabetes Research Center (FOE DRC) on Saturday, August 23, 2014. The new facility, featuring 20,000 square feet of research space with the most advanced medical technology available, will allow the FOE DRC, with its 100 researchers, to pursue innovative diabetes research and find treatments and cures for the epidemic that affects more than 9 percent of the American population.
The FOE DRC is supported by a $25 million gift from the Fraternal Order of Eagles, a leading international community service organization, which was raised by more than 800,000 members across North America.
"The Fraternal Order of Eagles Diabetes Research Center is one of the most visionary projects I've ever encountered," said UI President Sally Mason. "Housed in our new Pappajohn Biomedical Discovery Building, where cutting-edge, breakthrough research will take place, the FOE DRC is poised to be on the forefront of diabetes research and to make significant advances in diabetes research in the next decade."
The significant ray of hope for the millions suffering from the global pandemic of diabetes is coming from America's heartland. Over the last two years, a dream team of diverse and talented scientists has been assembled at the University of Iowa's Fraternal Order of Eagles Diabetes Research Center in collaboration to find new keys to preventing and curing this devastating disease.
E. Dale Abel, MBBS, DPhil (MD, PhD) and FOE DRC Director, believes the institution is uniquely positioned to make significant advances within the next decade. "The fact that we have tremendous resources that came about because of the support of the Fraternal Order of Eagles has created the opportunity for our scientists to be as creative as possible," explains Dr. Abel. "We are able to invest our time and efforts in important experiments which initially might be very difficult to get funding from more traditional sources. Just like in the stock market, sometimes you have to take a bit of a risk to get a high reward."
The dedication celebration took place at the Coralville Marriott, minutes from the University of Iowa campus and included remarks from UI President Sally Mason, FOE leadership, and notable Eagles members including singer Tony Orlando and comedian Tom Parks.
"With the Fraternal Order of Eagles Diabetes Research Center, our organization will forever be linked with groundbreaking medical research that will change the lives of millions around the world," stated FOE Grand Worthy President Bud Haigh. "We set out on this journey six years ago to further establish the Eagles as a group dedicated to impacting the world and we're proud to say we've done that through the FOE DRC."
"For more than a century, the FOE has been centered on identifying problems and working collectively to help provide solutions to those problems," remarked FOE Grand Madam President Gloria Mason. "Diabetes is a growing problem affecting lives within the Eagles and around the world. We're proud to stand at the forefront of the fight against diabetes and work toward the ultimate solution – a cure."
Here are just a few examples of some of the promising research currently ongoing at the FOE DRC and that will be housed in the soon to be opened state of the art FOE DRC research facility at the University of Iowa:
Helping people with diabetes increase their metabolism to burn off fat and lose weight can lead to improvement in their diabetes control. Dr. Chris Adams has identified some new compounds and drugs from natural products such as apple peels that can increase muscle metabolism.
Dr. Vitor Lira is also working on muscle metabolism and is studying how muscle responds to exercise in ways that prevent certain diabetic complications in the heart. His research aims to come up with new ways to prevent heart muscle damage even in people who are not able to exercise very well.
One of the major problems in diabetes is that the liver overproduces glucose. Dr. Eric Taylor is studying how the liver makes glucose and has identified a new protein that actually regulates this process. The ability to block that protein represents a new treatment for reducing blood sugar in people with diabetes.
People with diabetes have worse cholesterol levels and fats in the blood and is one of the reasons why they have more heart attacks. Dr. Brandon Davies studies the way that abnormal fats and cholesterol enter the blood stream. Based on his work, we may have new ways to lower fat accumulation that causes many of the complications of diabetes.
Dr. Matthew Potthoff is studying a new hormone called FGF-21, which may be more potent than insulin in terms of improving blood glucose and metabolism. It is very likely that this will ultimately become a new and important treatment for diabetes.
Dr Julien Sebag has figured out a new pathway in the brain that regulates appetite. He is also coming up with designer drugs targeting specific parts of the brain to reduce appetite without side effects affecting mood and energy. His work may lead to new and safer treatments to promote weight loss, a key to treating and preventing diabetes.
Dr. Ling Yang studies how diabetes causes liver damage. It turns out that the increase in diabetes in the world is causing a corresponding increase in liver damage and liver cancer. She is figuring out why that happens and how we can take preventive measures.
Dr. James Ankrum is a bioengineer who has designed microscopic nano particles capable of delivering drugs to beta cells that can be transplanted into the body without rejection by the immune system. These cells can then restore pancreatic function for longer periods of time than what is currently possible. Dr. Ankrum is also well known for inventing a painless hypodermic needle inspired by the structure of porcupine quills.
Dr Abel's own group is studying why people with diabetes are at greater risk for heart failure. They are investigating why high levels of insulin in people with insulin resistance might be damaging to the heart, exploring how to reduce that damage but at the same time maintaining people's diabetes control.
Other groups in the FOE DRC working across the University of Iowa campus, are studying new treatments to prevent diabetic nerve damage, new ways to detect early diabetic eye disease, better ways to treat and prevent high blood pressure in diabetics and testing new pumps and sensors for kids and adults with type 1 diabetes that can automatically measure blood sugar levels and adjust insulin doses 24 hours per day.
Nearly one in 12 Americans is affected by diabetes, including young Iowans such as Micah Cabbage, who was diagnosed at age 12. Micah's mother, Joanne, said, "These kids have to live with the burden of diabetes every minute of every day; they can't just be kids. It would be life changing to not think about diabetes all of the time. If the work at the FOE DRC can bring us to that point, it would mean everything to us."
About the Fraternal Order of Eagles:
The Fraternal Order of Eagles, an international non-profit organization, unites fraternally in the spirit of liberty, truth, justice, and equality, to make human life more desirable by lessening its ills, and by promoting peace, prosperity, gladness and hope. Founded in 1898, the Eagles fund research in areas such as diabetes, heart disease, kidney disease and cancer, and raise money for neglected and abused children and the aged, as well as work for social and civic change.
About the University of Iowa Foundation:
The University of Iowa Foundation's mission is to advance the University of Iowa and fulfill the aspirations of those it serves. The university's dedicated contributors fund a broad array of needs, from student scholarships, breakthrough research and life-changing health care to innovative facilities, community outreach and global education.
The UI and UI Foundation are conducting a historic comprehensive $1.7 billion fundraising campaign, For Iowa. Forever More: The Campaign for the University of Iowa, which will help secure the UI's status as a world-class institution for future generations.
The University of Iowa Foundation is the preferred channel for private contributions that benefit all areas of the University of Iowa. For more information about the foundation and the campaign, visit http://www.foriowa.org.
# # #
http://www.medicine.uiowa.edu/diabetes/
http://www.foe.com
For a full press kit including information on b-roll, visit http://www.uifoundation.org/foedrc
For more FOE DRC information contact: Dana Larson, executive director, University of Iowa Foundation, 319-467-3661, 917-345-9841 (mobile), dana-larson(at)uiowa(dot)edu.