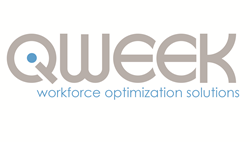 Qweek is not just another employee scheduling solution. Qweek does dynamic and automatic planning and optimization of the shifts themselves, allowing the business to reduce hidden unemployment and understaffing.
New-York, New-York (PRWEB) August 26, 2014
After being active in the field of Workforce Planning, Scheduling and Optimization for more than 4 years, today Qweek has launched its products online, accompanied by a brand new SaaS targeted website. The new product is the second version of Qweek's software, which has been adapted to utilize the cloud and the SaaS model. Qweek now enables users to register for a free trial in just a few seconds and explore the great possibilities that Qweek can bring to their business. The innovation in Qweek's solution, compared to the vast number of available employee scheduling solutions, is the planning mode, which enables to dynamically plan the required workforce hour-by-hour and not to work in static and rigid shifts. Compared to simple scheduling solutions, which only save some management time, Qweek's planning solution can save up to 10% of the total workforce expenses with guaranteed ROI. Qweek's affordable second generation product brings to both SMBs and Enterprises a product of a grade and capability that was previously available only to extremely large corporations and at a huge cost. Qweek utilized high end optimization algorithms.
About Qweek
Qweek develops a solution for dynamic workforce planning and scheduling. Qweek's solution enables businesses not only to automatically schedule their employees in an optimal way, but also to predict workforce demand and dynamically match workforce supply with demand, thus minimizing overstaffing and understaffing at peak times. This optimization has proved to save many businesses up to 10% of the total workforce costs. To learn more, visit: http://qweek.com