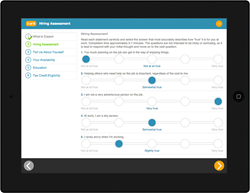 Our team of data scientists has transformed the assessment science and enabled it to live in a new, mobile world, said Julie Moreland, SVP, PeopleClues Division.
Charleston, SC (PRWEB) August 25, 2014
Finding the best fit employees in the service industry just became a lot easier, thanks to faster, shorter mobile-optimized assessments available from PeopleClues, a division of PeopleMatter. Designed specifically for mobile devices, the new six-minute personality and attitude pre-hire assessments are the first of its kind, and are scientifically created to offer a better candidate experience while maintaining a high quality of measurement. PeopleMatter, the largest provider of workforce management technology for the service industry, helps retail, restaurant, hospitality and service businesses hire, train and schedule the best employees through mobile technologies. PeopleClues assessments are based on 10 years of research and offer another way for PeopleMatter customers to increase compliance and defensibility within their selection processes.
Mobile adoption is rapidly altering how candidates search for jobs. In January, mobile devices accounted for 55 percent of Internet usage, exceeding personal computers as the main source of traffic for the first time in history. Forty percent of mobile candidates, however, will abandon the application process when they encounter a non-mobile friendly site, according to CareerBuilder. When companies allow job candidates to complete pre-hire assessments and apply for a job directly from their smartphones, they increase their applicant pool and find higher quality candidates. As the economy continues to improve and the labor market tightens, hiring the best employees is a top concern for businesses, especially among retail, foodservice and other service industries that typically have high turnover.
"This is the next generation of innovation," said Julie Moreland, SVP, PeopleClues Division. "Our team of data scientists has transformed the assessment science and enabled it to live in a new, mobile world. We analyzed 10 years of data to develop shorter mobile personality and attitude assessments that offer the best candidate experience in the industry without sacrificing the quality of the results. We have delivered on our commitment to keep raising the bar for providing high value assessment science coupled with a highly positive candidate experience."
The PeopleClues team of data scientists, led by Psychometricians Drs. Goodstein and Lanyon, has access to more than 3 million individual assessments and demographic data points collected over a decade that identify key trends. Consequently, fewer questions provide the same, scientifically developed results as before. Coupled with a mobile-designed user experience, the new assessments offer an even better, more flexible candidate experience. For the employer, results maintain the same level of accuracy and job fit alignment while reducing abandonment rates.
The assessments are integrated into the mobile-optimized job application that PeopleMatter launched last month, giving the candidate a real mobile experience with a redesigned user interface, location functionality, save features and mobile-optimized workflows. Designed for use on all mobile devices, the assessments are optimized for both smartphones and tablets, automatically responding to the screen size and taking advantage of additional display space on tablets. Employers can decide to include the personality, attitude, the seven-minute cognitive assessment or all three, depending upon their needs for specific positions. The personality assessment is based on the Big 5 psychometric standard that measures personality characteristics for conscientiousness, likeability, unconventionality, extroversion and stability.
PeopleClues is committed to providing an exceptional candidate experience and was honored with "The Best Online Candidate Experience" award from Online Recruitment (Onrec) magazine in 2013. The award was part of Onrec's online recruitment awards, which celebrate success, growth, innovation, talent and achievements within the industry. To learn more, visit the Assessment webpage.
About PeopleClues
PeopleClues, a division of PeopleMatter, is a global provider of employment assessments for measuring job fit, attitude and level of engagement for candidates and employees. These assessments are built for pre-employment screening, career development, team development as well as training and development. PeopleClues provides assessment tools that allow thousands of companies in eight countries to make better hiring and training decisions. For additional information, contact info(at)peopleclues(dot)com or follow us on the Web at http://www.peopleclues.com, @PeopleClues and Facebook.com/PeopleClues.
About PeopleMatter
PeopleMatter is a powerful and complete workforce management platform designed to fit the specific needs of service-industry brands. Our complete set of mobile, workforce solutions and business analytics tools connect processes, employees and customers in entirely new ways. Automating and optimizing people processes since 2009, PeopleMatter helps more than 42,000 service-industry locations thrive through better efficiency, engagement and customer satisfaction. PeopleMatter is headquartered in Charleston, SC and on the Web at http://www.peoplematter.com, @peoplematter and Facebook.com/PeopleMatter.HR.