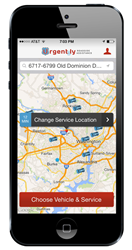 Urgent.ly ensures a safe, transparent and simple solution to a stressful problem.
Washington, DC (PRWEB) August 26, 2014
Urgent.ly, a new entrant in the on demand mobile services space, has launched the first completely transparent and totally mobile solution for roadside assistance. After downloading the free Urgent.ly iOS app and creating a brief profile, motorists can use it to instantly pinpoint their location, see nearby and available roadside assistance providers and easily connect for immediate service. The motorist tracks the service provider's location and progress on the app until help arrives. The iOS app is free; drivers use it to pay only for service when it's provided and completed to their satisfaction. The app is available for download from iTunes here.
Urgent.ly has a growing network of more than 160 roadside assistance vehicles in the Washington, DC area and is expanding nationally. It offers flat-rate pricing and allows drivers to manage their entire roadside assistance experience through the iOS app. The company has built in a variety of safety features, including the proprietary FamilyView, allowing drivers to link their app to a driving-age child, spouse or parent. When a loved one uses Urgent.ly to request help, the primary driver can track or even assist in the process via the app. This "remote viewing" feature offers an unmatched sense of security.
According to Chris Spanos, Urgently's CEO, today's consumer increasingly expects a predictable, on-demand experience that offers both reassurance and certainty that their needs will be met. "Uber has proven that the days of calling a dispatch office, and hoping a car -- or in this case, tow truck -- will actually arrive before a meeting starts or flight takes off, are over," Spanos said. "Like Uber and Lyft, Urgent.ly ensures a safe, transparent and simple solution to a stressful problem. We get stranded motorists off the side of the road quickly, and get them back up and running."
Key features of Urgent.ly's mobile solution include:
Two-tap-tow: In just two taps, Urgent.ly locates a tow truck or other roadside assistance vehicle, and allows stranded motorists to track that vehicle until it arrives.
Upfront pricing: Urgent.ly offers flat-rate, reasonable pricing. Unlike the confusing price structure that auto clubs offer for different levels of service, Urgent.ly offers clear and fair pricing for services, and charges customers only for the service they use, when they use it. (And only if they are completely satisfied.)
No Monthly or Annual Fees: Unlike auto club or insurance services that bill in advance for services that may never be needed, Urgent.ly only charges a motorist when a service is completed to their satisfaction.
Cashless transactions: Urgent.ly bills the motorist through the app via their saved credit card once service is complete and automatically provides a receipt. There is no need to exchange cash or credit card information by the side of the road.
About Urgent.ly:
One of the newest entrants in the growing on-demand mobile economy occupied by companies like Uber, Lyft, Homejoy, TaskRabbit and Washio, Urgent.ly provides a completely mobile, transparent, timely, safe and cost-effective roadside assistance experience. Its recently released iOS app offers two-tap, transparent service; clear pricing; and cashless, reliable roadside assistance for motorists in need of a tow, tire change, fuel, jump start or lock-out service. The app is available for download from iTunes here.
Founded by a group of executives who have successfully launched a wide variety of startup ventures acquired by companies such as AOL, Revolution Health, N.E.W. and Comcast, Urgent.ly completed its seed round of funding in March 2014, and is in the process of closing a larger, pre-series A round. The company has provided roadside assistance to hundreds of motorists in the DC area via its web app since its soft launch in April, and is rapidly expanding nationally. The company was recently named a finalist in the CTIA StartUp Lab, taking place in Las Vegas at Super Mobility Week September 8-10.