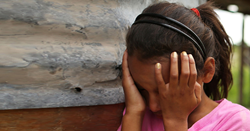 he feelings of abuse are an essential factor in a bully's mindset. In simpler terms, an abuse victim today is tomorrow's bully.
London, UK (PRWEB) August 26, 2014
Abuse comes in many different forms and formats, it is essential for parents, educators and caregivers to understand the true abuse definition to help victims realize whether they have been abused or not. NoBullying releases today the ultimate guide to abuse definition.
The simple definition of abuse is any action that is done by one person towards another to cause them harm. When this is being done people will often think they are deserving of the abuse or think it is a joke at first.
The first step that people need to take is to look at who is the abuser. If it is a significant other, parent, or sibling they should take the actions to try to distance themselves from these individuals. By doing this people will be able to feel better about the abuse because it may start to come to a stop, but also because they are going to get away from the situation.
One of the most essential types of abuse to understand is emotional abuse. It is often going to be used when people want to put another person down for one reason or another. This often involves people looking at their relationships or something they are doing in life that is better than the person who is hurling out the insults.
Physical abuse is very easy to define because it is the type of abuse that people are faced with when they are being hit, bitten, or even threatened to be hurt. When people are having this type of threat people will find they are going to be dealing with the scars that are present and even the different types of issues that people are going to have to cope with.
Abusive relationships leave a lasting mark on one's soul, this is evident by the rise of women suffering from battered woman syndrome and children suffering from sibling abuse.
It is worth noting that whether the abuse is emotional, physical, verbal or mental. Domestic Abuse or child neglect is a type of abuse that encompasses them all. Victims of domestic abuse grow up understanding that violence is a great way of getting messages across, turning them into adult bullies or abusers. They also feel that abusing someone could be an act of love and caring and not the vicious mental or physical attack it really is.
Ciaran Connolly, Co-Founder of NoBullying.com, said, "An abuse definition it quite hard to pin point. The feelings of abuse are an essential factor in a bully's mindset. In simpler terms, an abuse victim today is tomorrow's bully."
He added that parents and teachers should make a point to educate the younger generations about the sad outcome of bullying online and offline. According to Connolly, it is quite imperative to press for more firm laws condemning all acts of bullying and harassment.
NoBullying.com features many pages dedicated to parents, teens, teachers, health professionals as well as posts related to cyber safety and the latest news about law making concerning curbing Bullying worldwide as well as inspirational Bullying Poems and famous Bullying Quotes.
The website regularly updates its bullying statistics and cyber bullying statistics as it is essential to understand how widespread the bullying epidemic is. It also regularly runs cyber bullying surveys and questionnaires to get recent updated statistics on everything related to cyberbullying.
He also added that anyone suffering from bullying in any form or way can always find advice and help on the NoBullying website – but if anyone is suffering from severe bullying or cyber bullying, the best thing is to talk to someone locally – a parent, teacher or local organization that has been set up to help with specialized councilors to deal with this topic.