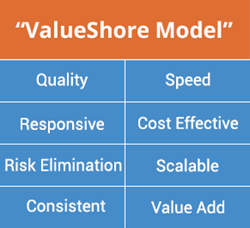 At OpenXcell, ValueShore serves as a perfect model to best meet the clients requirements as the model is capable of producing extremely quick and efficient software development.
New York City, NY (PRWEB) August 26, 2014
OpenXcell Technolabs, an offshore Software Development Company has recently launched its outsourcing model called ValueShore. With the emergence of this model, OpenXcell has brought forth its in-depth functional methodology for software, a development project that is purposely designed to provide best returns to the customers for their investments in outsourcing software development projects. Through this model, potential customers will get to experience a streamlined deliverance of their software development projects in each and every aspect. OpenXcell's ValueShore model closely focuses on these eight features with utmost persistence while delivering outsourcing services for software development. They are Quality, Responsiveness, Speed, Cost Effectiveness, Risk Elimination, Scalability, Consistency and Value Addition.
"Having worked on a plethora of software development projects for more than 5 years now, we have precisely studied the needs and expectations of organizations who opt for outsourcing their software development process, and we have learnt that they particularly emphasize on the deliverance of Quality of work, Speed in execution and Value for money," said Jayneel Patel, the CEO of OpenXcell Technolabs Pvt Ltd. He further stated, "At OpenXcell, ValueShore serves as a perfect model to best meet the clients requirements as the model is capable of producing extremely quick and efficient software development. I am pleased to say that OpenXcell brings together all the experience, skill and ideas through this model to offer distinctive outsourcing services."
Amongst many other offshore software development companies, OpenXcell has proficiently managed to best meet every organizations' requirements through emphasizing on responsiveness and maintaining consistency while delivering the project with agile methodology. However, this certainly doesn't come easy for every other company, as they fail to cope up with timely delivery and offering high quality work due to lack of experience, eventually resulting in wastage of time and money being invested.
OpenXcell, on the other hand, with its incredible depth and breadth of experience has been trusted by a large number of organizations as their best partner for outsourcing software development. The existing clients of OpenXcell have found that ValueShore is an ideal model for all those organizations who are willing to outsource their projects to an efficient company that values their ideas and money. It has a proven track record of developing softwares as expected, delivering in timely manner and most importantly within the budget. Hence, a long term partnership with clients is guaranteed.
OpenXcell is a leading offshore software development company that is backed by a skilled team of 150+ software developers and project managers. OpenXcell has a fabulous track record of developing ingenious softwares, mobile apps, SaaS apps & eCommerce. Along with that, OpenXcell is amongst the first companies that develops apps for wearable devices. The company has also expanded its horizons by offering end to end app marketing services. Whereas, it has also developed Orderhive, a SaaS based multichannel order and inventory management system. OpenXcell has its headquarters located in the US with its software development centre located in India.
###
Contact Details: OpenXcell Technolabs is one of the best offshore development companies. The company provides cost effective development solutions for web, eCommerce, iOS and android. Visit http://www.openxcell.com to check to know more.