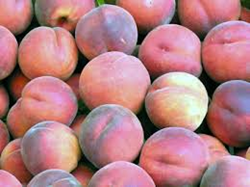 Chambersburg, PA (PRWEB) August 25, 2014
Sweet, delicious peaches! Mmmm, nothing like that first bite each summer. Peach eaters for decades have known that "Chambersburg peaches" are among the sweetest and juiciest.
Franklin County orchards are bearing peaches now through Labor Day. Peaches are nice-sized and definitely sweet and juicy. Varieties like Redhaven, Loring, and Sun High are showing up at local fruit stands and markets. Redhaven is one of the earlier varieties of peaches and is very versatile. It is a semi-freestone and can be used for canning, freezing, or just enjoying as a snack. The Loring variety is popular for freezing and canning and a freestone peach. Sun High peaches ripen in mid-August and are an excellent freestone peach for canning and freezing. All varieties make delicious pies!
FAQ About Peaches
What is a freestone peach? Peaches are cling or freestone. A freestone peach is easier to remove the flesh of the fruit from around the pit, which makes it quicker to process for sliced canned peaches or pie making.
If I want to can peaches, how many quarts will a bushel yield? A bushel yields about a dozen quarts.
Is a doughnut peach a peach? A doughnut peach is a white peach that is shaped like a doughnut. It is a very sweet peach. White peaches are less acidic than yellow.
What is the nutritional value of a peach? A medium peach, about 100 grams, has about 50 calories, 2 grams of fiber, 11 carbohydrates, and is a good source of vitamin A and vitamin C.
Peach Trivia
A seven-year old boy sets sail to New York with his friends on a giant peach after the peach rolls over his Aunt Spiker and Aunt Sponge. What is this little boy's name in the Roald Dahl story?
In what country did peaches originate?
Who sang the mid-1990's hit Peaches with lyrics that said: "Nature's candy in my hand or can or a pie…..Millions of peaches, peaches for me."?
For answers, e-mail the Franklin County Visitors Bureau at info(at)explorefranklincountypa(dot)com.
For Franklin County Peaches, visit the Farms, Markets, and Orchards at http://www.DoDineStayFranklinCountyPA.com.