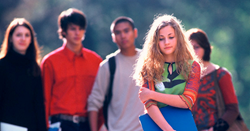 Guns do not resolve issues. Talking things out resolves issues and gun violence needs to stop now.
London, UK (PRWEB) August 27, 2014
Guns have been in the news a considerable amount these last few years. With the number or school shootings such as the Columbine school shooting and other violent attacks continuing to take over headlines, more and more individuals push to regulate guns. It is important to understand gun crime statistics inside of the United States, whether it really is out of control and how it compares to the rest of the world. Today, NoBullying releases a complete guide to Gun Crime in the United States.
Gun ownership inside the United States is far higher than anywhere else in the world. For every 100 people in the country there are 88.8 guns. Due to the high total of firearms owned inside the United States, it makes sense why there is also an increase in gun violence over every part of the country.
Inside the United States, one in three people know someone who has been shot before. The violence also has a direct side effect on children, which in turn can desensitize a child to the usage of guns, this opens a child's mind to the potential advantages of using a gun to end his troubles, for an example, the perpetrators of the columbine school shootings were being harassed and bullied at school and resorted to gun violence in a wild gun rampage. This is a reminder of the trauma of violent crime happening to teens and youth across the world.
When people own a gun, it comes with quite a bit of responsibility. However, what people need to realize this responsibility is not always going to be hard to own up to. If people were able to use some tips it is easy for them to have gun safety properly carried out and know that they are doing everything possible to keep the guns out of the hands of untrained people and children.
The guide lists some of the tips that people will want to learn to guarantee they have the proper firearm safety for the guns they own, but also have a good foundation of gun safety rules to teach to others. Some of these rules will even help people establish gun safety for children's gun safety classes.
This comes as a reminder that children, teens and youth need to be properly educated that guns aren't the proper means for conflict resolution. Violence is not the answer and this particular cycle of violence needs to stop.
Ciaran Connolly, Co-Founder of NoBullying.com, said "Guns do not resolve issues. Talking things out resolves issues and gun violence needs to stop now!"
He added that parents and teachers should make a point to educate the younger generations about the sad outcome of bullying online and offline. According to Connolly, it is quite imperative to press for more firm laws condemning all acts of bullying and harassment.
NoBullying.com features many pages dedicated to parents, teens, teachers, health professionals as well as posts related to cyber safety and the latest news about law making concerning curbing Bullying worldwide as well as inspirational Bullying Poems and famous Bullying Quotes.
The website regularly updates its bullying statistics and cyber bullying statistics as it is essential to understand how widespread the bullying epidemic is. It also regularly runs cyber bullying surveys and questionnaires to get recent updated statistics on everything related to cyberbullying.
He also added that anyone suffering from bullying in any form or way can always find advice and help on the NoBullying website – but if anyone is suffering from severe bullying or cyber bullying, the best thing is to talk to someone locally – a parent, teacher or local organization that has been set up to help with specialized councilors to deal with this topic.