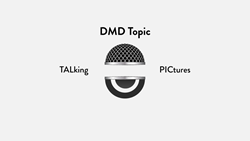 'DMD Topic' is a simple app to keep memories alive (family gathering, special events), for business (real-estate tours) or just for fun.
Beirut, Lebanon (PRWEB) August 27, 2014
DerManDar, a start-up specialized in mobile photo technology, has launched its brand new app "DMD Topic." The app name relates to "TALKing PICtures."
This user-friendly new app definitely gives life to any picture, by only highlighting essential parts of it while pointing on the device screen and recording a voice description: any static photo is immediately upgraded to an unforgettable animated story.
Once this unique story is created, "DMD Topic" gives the opportunity to mark the moment by sharing it instantly on any social media with friends and family. Sharing is not a burden, since with DerManDar unique encoding technology, each story uses as much storage and bandwidth as a single picture.
This app is also designed for business needs. It is a powerful tool to create real-estate tours, museum and touristic sites visits. It may also be used for business reports since a voice comment over a picture saves writing a long explanation.
Here are two stories made with "DMD Topic:" Pink tea time and Great wall visit.
"DMD Topic" is available for free on Apple Appstore and Google Playstore.
DerManDar is a Lebanese start-up, leader in the field of Photo Mobile Technology. It has released several apps such as the award-winning "DMD Panorama" and the recently launched "DMD Clone." DerManDar team develops highly optimized image processing algorithms to deliver user-friendly and straight-forward apps.