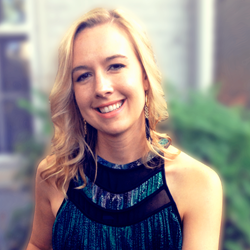 I know Heather will do a phenomenal job carrying our organization's mission forward as we continue to connect, mentor, and educate women in business, advocacy, and technology.
Washington, D.C. (PRWEB) August 25, 2014
Professional networking and mentorship organization Ladies DC (LDC) is proud to announce that Heather Crotty has been named as its next Director.
Crotty will lead the organization in its efforts to enable professional women to connect to advance one another personally and professionally, following the motto: "Women Helping Women." She is a seasoned marketing executive who has provided leadership in a variety of for-profit and nonprofit organizations for almost a decade, with extensive experience in the development of strategic communications, public relations, event planning, online marketing, brand building, membership expansion, and partnership growth.
As the Director of Ladies DC, Crotty will oversee an organization that connects more than 3,000 extraordinary women in the D.C. area – ranging from those just joining the workforce or seeking professional advancement to women who have established a thriving career in a variety of industries including business, politics, education, design, art, finance, associations, communications and law.
Crotty knows Ladies DC well – she has been a member since moving to the DC area in 2011 and has served on the executive board as Communications Director for the past year – overseeing internal and external communications, event marketing, the weekly Ladies DsCene newsletter, and the organization's blog, LDC Articles.
"I am delighted to continue working with Ladies DC in this new capacity as the organization's Director," Crotty said. "I have enjoyed serving on the Board as Communications Director and feel privileged to have such a passionate team of colleagues by my side. I look forward to continuing to fulfill the Ladies DC mission – serving as a friendly and educational resource for inspired DC women."
"We are very grateful to outgoing Executive Director Jean Schindler for the organizational achievements during her tenure – including establishing the mentorship experience, implementing an innovative membership program, planning and executing dozens of educational events, and growing a group of six volunteer leaders to a team of 40," said Lindsey Mask, Founder of Ladies DC and Executive Director of its parent organization, Ladies America. "On behalf of the Board of Directors of Ladies America, I am delighted to welcome Heather Crotty as the new Director of Ladies DC. With strong insight from her predecessor, coupled with her incredible professional experience and enthusiasm for the organization, we are all thrilled to see Heather take the reins of our founding chapter, Ladies DC. Ladies DC is the linchpin of our national organization, with Ladies America's mission and roots grounded in what first developed around the professional women in Washington, D.C. This flagship chapter, Ladies DC, often offers our national leaders a ripe testing ground to pilot and expand offerings and programs for professional women across all sectors and in all of our represented states. I know Heather will do a phenomenal job carrying our organization's mission forward as we continue to connect, mentor, and educate women in business, advocacy, and technology."
In her current position as Director of Marketing for disruptive IoT technology firm TransVoyant, Crotty serves on the leadership team driving overall marketing plans and goals for the company. Crotty is an active member of Old Town Toastmasters, a President's Distinguished Club of international public speaking and leadership organization, Toastmasters International, where she recently oversaw communication strategies as Vice President of Public Relations. In addition to her volunteer work with Ladies DC, she enjoys volunteering at fundraisers for the American Heart Association, Washington Humane Society and the Leukemia & Lymphoma Society. Crotty received her Bachelor's degree in Business Leadership, Marketing and Entrepreneurship from the University of Dayton where she graduated from the L. William Crotty Center for Entrepreneurial Leadership.
Jean Schindler, outgoing Director of LDC, welcomed the appointment. "When I first met Heather last year to discuss her interest in the Communications Director position, I knew in the first 10 minutes of our long conversation that she would be an amazing leader. Heather Crotty has been a committed and highly effective member of the Board, and it is a great pleasure to hand over the organization's top job to her; she is the ideal person to continue shaping Ladies DC into one of the most powerful and uplifting women-focused organizations in the country."
Ladies DC invites you to celebrate the 'Passing of the Torch' and mingle with the fabulous professional women of DC on August 26, 2014, at Dickson Wine Bar (903 U St NW DC) from 6:00 – 8:00PM. New to the area? Easing back into DC from summer vacation? Drop by to learn more about Ladies DC and to make some fresh connections!
For more information on Ladies DC events, membership and more, please visit http://www.ladiesdc.org.
Ladies DC is a local chapter of Ladies America, a national organization aimed at connecting, mentoring, and educating women in technology, advocacy, and business. To learn more about Ladies America, please visit http://www.ladiesamerica.org.