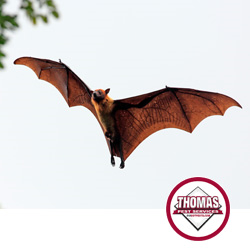 Handling or trying to get rid of bats on your own can be dangerous and lead to injury or illness, therefore it should not be attempted.
Albany, NY (PRWEB) August 27, 2014
Bats are a type of pest that in general could use a little PR help. Most people are not fans of bats and want nothing to do with them while others have them purposefully living on their property. The truth is that bats are not all bad and there are in fact both pros and cons to having them live on your property. The professionals at Thomas Pest Service want to provide you with information about what those pros and cons are, why bats are harmful to have in your home, and what to do if you do find that they have made your home into their home.
First let's start with the pros on why bats are actually beneficial to have living in and around your outdoor property. Bats are very valuable to our eco-system for several different reasons. Bats are natural pollinators, they help to transfer pollen from flower to flower which in turn helps to pollinate a wide variety of plants and flowers. Along with pollination they help to transfer the seeds of many plants like bananas, avocados, and peaches to name a few. Bats help to keep other pests like mosquitoes, wasps, beetles, and gnats under control, by feeding on hundreds of them an hour. Also, while you don't want bat feces (guano) in or on your home, in your garden it is actually a superb fertilizer because of its high nitrogen content.
Now onto the cons of why having bats on your property may not be so great, especially when they take up residence in your home. Bats can take over roof and attic spaces of houses, garages and other buildings in order to roost and nest in. Having bats and their young living in or on your home can be very damaging to it. Their feces can be corrosive and contaminate and damage insulation and other building materials, and spread serious illness to you and your family. Histoplasmosis is one such illness that is spread by breathing in a fungus that accumulates within bat droppings. Bats are also carriers of rabies. Bats in general are not super aggressive but like any animal will defend themselves by biting or scratching if they feel trapped or threatened. Being bitten or scratched by a potential rabies carrier is a serious situation and can be very dangerous for you or your pets.
So while bats do have their benefits, if they are found living too close or even in your home they should be removed for the health and safety of you, your family, and pets. While there are many things that you can do yourself around your home, bat control is one of the things that should not be on your DIY list. Handling or trying to get rid of bats on your own can be dangerous and lead to injury or illness, therefore it should not be attempted. Removing wildlife from your home or property should only be done so by a trained and experienced professional for the safety of both you and the animals themselves.
###
Thomas Pest Services is a leading pest control company in the Albany areas that can provide safe wildlife removal services. Our professionals will humanely remove the bats from your home or property using only environmentally responsible techniques. Visit http://www.518gotpests.com to learn more!