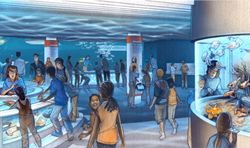 "The new Living Seashore exhibit will give guests a one-of-a-kind, hands-on experience with some of the very creatures we're working to preserve and protect," said John Racanelli, National Aquarium CEO
Baltimore, Maryland (PRWEB) August 25, 2014
The National Aquarium announced today the addition of Living Seashore, an interactive exhibit opening in spring 2015 where guests can explore the shore and touch the animals that live between the tides. This new exhibit, which spans 2,700 square feet, takes guests beyond the boardwalk to the crashing waves, sandy beaches and shifting dunes of the ever-changing Mid-Atlantic seashore, where they will encounter more than 150 animals, including clearnose skates, horseshoe crabs and moon jellies.
The $5.5 million exhibit is part of a $10.5 million infrastructure upgrade that includes Living Seashore and also supports renovations and improvements throughout the National Aquarium's Baltimore campus. This upgrade is part of a multi-year commitment to tackle the critical infrastructure needs of the Aquarium's 33-year-old building, which has hosted nearly 50 million visitors.
"The new Living Seashore exhibit will give guests a one-of-a-kind, hands-on experience with some of the very creatures we're working to preserve and protect," said John Racanelli, National Aquarium CEO. "The Mid-Atlantic seashore is a local aquatic treasure, and a seemingly familiar place to many. But, as our guests will soon discover, fascinating stories await them; stories of the secret lives of seashore animals and plants, as well as the people who are dedicated to keeping our beaches and coast healthy."
Along the edge of two large touchpools containing 5,331 gallons of salt water, guests will be able to gently touch the prickly pointed spines of a purple sea urchin; the sleek, muscular wing of an Atlantic stingray; and the mysterious, firm bell of a pulsing moon jelly. During encounters with these intriguing creatures, visitors will have the opportunity to engage one-on-one with National Aquarium experts and educational interpreters to learn more about responsible beach-going and conservation of these animals.
"Many of these animals live side-by-side with us on our beaches, and we don't even know it," said Jack Cover, general curator for the National Aquarium. "This new exhibit will transport our guests to the beach, where they can really explore the mysteries living among us."
As guests explore the replicated sandy shore, they will learn about some of the beach's hidden treasures, such as hermit crabs, shell fragments, shorebird tracks and egg cases, on a tactile discovery wall that brings a "slice of the beach" to eye level. Guests will have the opportunity to look for clues on a digital multi-touch table where they can discover objects that wash up on the beach and find out what animals lives along the seashore.
Guests will also be able to connect to the wonders of the water's edge by pledging to protect local aquatic treasures in their backyard and around the world at the digital Shore Hero Conservation Station.
"Through meaningful experiences with animals, interpreters and some very cool interactive exhibits, we hope to inspire people to action by giving them the tools to make everyday choices that will positively affect the health of our very own Chesapeake Bay and the ocean beyond," said Racanelli.
Additional displays will highlight animals that live just below the ocean's surface in this Atlantic shoreline habitat, such as spider crabs, striped burrfish and northern stargazers.
Living Seashore will be located on Level 3 of Blue Wonders: Reefs to Rainforests, Pier 3 Pavilion. The exhibit will occupy space that was previously a backup area. Additional information about the new exhibit, renderings and animal images can be found at http://www.aqua.org/livingseashore.
National Aquarium
The National Aquarium is a nonprofit organization whose mission is to inspire conservation of the world's aquatic treasures. It champions environmental initiatives by engaging with visitors, volunteers, education groups and schools to actively participate in the preservation of the world's natural resources and living systems. The National Aquarium delivers meaningful experiences through its living collections; science-based education programs and hands-on experiences in the field from the Chesapeake Bay to Costa Rica; and partnerships and alliances with like-minded organizations around the world. For more information on the National Aquarium, visit http://www.aqua.org.