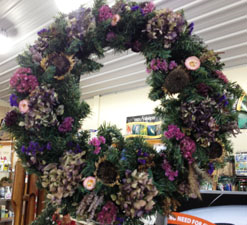 The staff at Norway Gardens works hard to offer entertaining learning experiences for its customers and Hydrangea Days is one of these opportunities.
Monticello, Indiana (PRWEB) August 27, 2014
Saturday, August 30, will be a red-letter day at Norway Gardens. It is the centerpiece day of a 3-day promotion -- Hydrangea Days. All three days of the weekend will honor lots of sale prices but the special events will take place on that Saturday, August 30.
Two seminars will be featured on Saturday, August 30. The first 'All about Hydrangeas' at 10 a.m. is fashioned to answer the myriad questions customers have about hydrangea bushes. There are so many kinds of hydrangeas! Some of them have blooms that can be controlled by adjusting pH levels and others will stay white regardless of what one does to them. Some get huge while other stay relatively small. What are the basic kinds of hydrangeas and how does one care for them? What about water and fertilizer needs? When should hydrangeas be pruned? What is the best way to preserve hydrangea blooms? The fact that each year lots of new varieties of hydrangeas are introduced testifies to the popularity of this plant and along with growing popularity come lots of questions. 'All about Hydrangeas' will answer them.
A second seminar entitled 'The Best of 2014 and a Preview of 2015' at 1 p.m. will cover a discussion of favorite new flowers, shrubs, and veggie plants of 2014 and a glimpse of new offerings for next year. Staff members from Norway Gardens will submit their favorite new varieties for this seminar and guests attending the seminar are invited to add their success stories.
At 11:15 a.m. and again at 2:15 p.m. guests who have pre-registered may create their own hydrangea and dried flower wreath or small tree using blooms which have been dried from the cutting garden at Norway Gardens. During this workshop guests will learn how to preserve and dye hydrangea blooms and will be given ideas for the many ways dried hydrangeas may be used.
All day on Saturday, August 30, attendees may purchase their lunch from Uncle Don's Barbeque Truck, which will be at Norway Gardens for this special event.
The staff at Norway Gardens works hard to offer entertaining learning experiences for their customers. Hydrangea Days is such an opportunity and all are cordially invited to come and enjoy all the festivities.