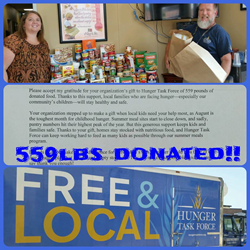 Our patients helped us not only reach this goal, but also had us way over our goal
Wauwatosa, WI (PRWEB) August 27, 2014
AlignLife of Wauwatosa held its second annual Thanksgiving in July throughout the month of July. "We had a goal to collect at least 300lbs of food for our local Hunger Task Force", Dr. Sara Mahalko said. "Our patients helped us not only reach this goal, but also had us way over our goal." AlignLife of Wauwatosa collected 559lbs of food during their month-long food drive.
"We definitely set the bar high for next year," explains Dr. Katie Sam. "We look forward to collecting well over the 600lb mark next July."
Thanksgiving in July is held every July at AlignLife. Patients are asked to donate non-perishable food items, while non-patients are encouraged to donate two bags of non-perishable food items, which qualifies them to receive their entire first visit for free. "It is a great way for members of our community to not only help the hungry, but to benefit from chiropractic care as well," Dr. Sara Mahalko said.
AlignLife is a family-oriented practice, seeing patients of all ages. If you are interested in learning more about Dr. Sara Mahalko and Dr. Katie Sam's family practice, check out their website at http://www.AlignLife.com/Wauwatosa or call (414) 774 - 2300 to schedule a consultation.
ABOUT ALIGNLIFE
AlignLife is a chiropractic and natural health franchise founded in 2007 with the mission to provide the highest quality of natural healthcare services to communities around the nation. The integration of chiropractic with other natural health services has proven to save time and money while reducing the hassles of dealing with the complex American health care system. AlignLife is operated by founder and CEO, Dr. Joseph Esposito and President, Dr. Cristina Esposito. There are currently 21 AlignLife locations within six states around the nation and expansion plans are to have 50 locations by the end of 2014. For more information or to find a clinic new you go to http://AlignLife.com.