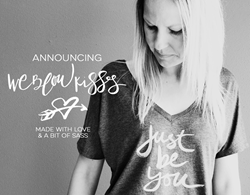 Artistic expression has always been a part of my life.
Middleton, WI (PRWEB) August 26, 2014
Compelled to start a company that positively influences the lives and hearts of others, Kristina Nicolai-White, a 15-year veteran of online retail and the memory-keeping industry has closed the business she founded and launched a lifestyle design company based on art, love, beauty and joy with her teenage daughter, Arianna White.
"Artistic expression has always been a part of my life. Whether it was through stained glass, paint or paper I've always found a way to express myself. I have also always encouraged Arianna to be creative and to explore that side of herself. I believe strongly in the power of words and that happiness and beauty can be infectious; it can be spread with smile and positive energy. That's what we hope to do with this company," says Kristina. "I am excited to be working with Arianna on this project so I can pass on and teach the skills that I have learned over the last 15 years, so that she can use these in her lifetime in her own pursuits."
With their combined talents, Kristina and Arianna will apply their clear (and sometimes unapologetic) designs and positive messaging on wearable and lifestyle products, such as t-shirts, bags, phone cases, mugs, etc. the goal of We Blow Kisses is to source most of it's products from Dane County and Wisconsin where possible. Kristina adds: "My last company served global customers, but it retailed products from global suppliers. This time, we want to be partnered with people in our own community."
Arianna summarizes her feelings: "I grew up surrounded by art and creativity, always encouraged by my mom to create and express the talents that I have. Now she's giving me the opprotunity to share my talent and positive energies with others--something most teenagers don't have. I am so happy to be working with such a skilled and wonderful person. I love my mom and both of us cannot wait to share our love with the world."
To learn more, please visit http://www.weblowkisses.com or email support(at)weblowkisses(dot)com.