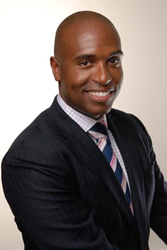 I am honored to be selected as one of this year's winners and proud of the legal work that the National LGBT Bar Association and others are doing to advance the rights of LGBT persons at home and around the world."
New York, New York (PRWEB) August 27, 2014
The National LGBT Bar Association has named Jamil O. French to its 2014 Class of "Best LGBT Lawyers Under 40". This elite list recognizes accomplished legal professionals across the country under the age of forty who have distinguished themselves in their fields and have demonstrated a profound commitment to LGBT equality.
French was recognized for his legal acumen and his many contributions to the LGBT community at this year's awards luncheon held on Saturday, August 23, 2014, in New York City.
French is an attorney for Pershing Advisor Solutions, a New Jersey based broker dealer and subsidiary of BNY Mellon that provides services to investment advisors and other fiduciaries. Prior to joining Pershing Advisor Solutions, French served as in-house counsel for a New York City based hedge fund, a Managing Director of a global investment bank and as an attorney in two internationally recognized global law firms.
French is devoted to tackling issues of diversity and inclusion as reflected most recently in his pro bono work for the National LGBT Bar Association related to same sex marriage laws and tax treatment guidance as well as his active participation as a member of BNY Mellon's Legal Diversity and Inclusion Council and the Council of Urban Professionals, a leadership development organization.
French received a Bachelor of Arts, cum laude, from Princeton University in 1997. He received his Juris Doctorate from Harvard Law School in 2001 where he served as a submissions editor for the International Law Journal.
###