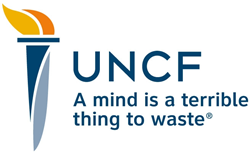 Houston , TX (PRWEB) August 25, 2014
UNCF (the United Negro College Fund), is proud to announce that Mayor Annise Parker will host and serve as the keynote speaker for its UNCF Mayor's Luncheon on Friday, August 29, 2014 at the Hyatt Regency in downtown Houston. The Luncheon will bring together business, civic and education leaders to support UNCF's work to create a college ready culture that provides students with the support they need to get to and through college. The event proceeds will create operating support for UNCF's Texas-based Member Institutions and scholarships for economically disadvantaged college students attending UNCF-member Institutions and other fully accredited U.S. colleges and universities.
In addition to Mayor Parker's keynote speech, UNCF's president, Dr. Michael Lomax will speak along with Larry Elizondo, manager, Corporate Social Responsibility Government and Public Affairs, CITGO Petroleum Corporation, Cha'Mira Keener a graduate of Wiley College and South Texas School of Law student and Elizabeth Campbell, partner, Andrews Kurth LLP and chair of the local UNCF Leadership Council.
For more information, please contact the UNCF office: (713) 942-8623 ext. 8677 or via email at: jewell.bass(at)uncf(dot)org.
WHO: UNCF (United Negro College Fund)
WHAT: 2nd Annual UNCF Mayor's Luncheon
WHEN: Friday, August 29, 2014
11:30 AM – Check-In
12:00 PM - Luncheon
WHERE: Hyatt Regency Houston; Imperial Meeting Room, 1200 Louisiana Street, Houston, TX 45402
About UNCF
UNCF (United Negro College Fund) is the nation's largest and most effective minority education organization. To serve youth, the community and the nation, UNCF supports students' education and development through scholarships and other programs, strengthens its 37 member colleges and universities, and advocates for the importance of minority education. UNCF institutions and other historically black colleges and universities are highly effective, awarding 21 percent of African American baccalaureate degrees. UNCF administers more than 400 programs, including scholarship, internship and fellowship, mentoring, summer enrichment, and curriculum and faculty development programs. Today, UNCF supports more than 60,000 students at over 900 colleges and universities across the country. Learn more at http://www.UNCF.org. Donations can be sent to UNCF's Houston office: 723 Main Street, Houston, TX 77002 or at http://give.uncf.org/Houston.