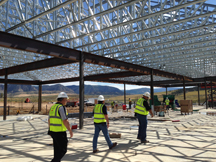 Brentwood, Tenn. (PRWEB) August 27, 2014
Pioneers Medical Center (Meeker, CO) held a celebration for its topping out as the last beam was placed atop the 87,365 square foot replacement facility on Aug. 7, 2014. All of the steel is set and construction has begun on the outside walls.
"We are thrilled with the progress of this project," said Ken Harman, CEO of Pioneers Medical Center. "Our next goal is to have the building weather proof this October. At the current pace, we are on track to open in June 2015."
The project includes a new 10-bed acute-care hospital, a 30-bed long-term care unit, a 4,000 square foot outpatient rehabilitation unit and a 7,400 square foot rural health clinic. When complete in 2015, the new facility will offer the same services as before, in addition to:

A new pharmacy, designed to allow chemotherapy, infusion treatment and onsite prescription mixing;
A new Pediatric Care Program in the outpatient area of the facility;
Private rooms and a home-like atmosphere in the Walbridge Wing;
Increased handicap accessibility and privacy and safety features; and
A new Meeker Family Health Center with more exam rooms, three procedure rooms and an area dedicated to pediatric patients.
"Moving closer toward the completion of the replacement facility is an exciting milestone to reach," said Bill Donatelli, vice president of western operations of Quorum Health Resources. "Topping out signifies that the right investments and decisions are being made to provide outstanding healthcare to the Meeker community."
"Since the start of the project, AHFD has worked closely with the hospital's executive team and the Board and we are very pleased to see it progressing both on time and on budget," added Donatelli.
The total project will cost approximately $47 million and is being funded from reserves, a bank loan, grants and donations. Quorum Health Resources (QHR) subsidiary American Health Facilities Development (AHFD) is the program manager, Davis Partnership (Denver, CO) is the architect for the project and Haselden Construction (Centennial, CO) is the general contractor. Pioneers Medical Center is governed by the Board of Directors of the Eastern Rio Blanco County Health Services District.
About QHR (Quorum Health Resources)
QHR (Quorum Health Resources) has provided consulting, management and education resources to hospitals and health systems for three decades. QHR is the market leader in hospital management, serving more than 700 hospitals over the past 3 decades. As a consulting resource, QHR is consistently ranked among the top healthcare consulting firms in the nation, and the QHR Learning Institute reaches nearly 15,000 healthcare professionals each year. For more information, go to http://www.qhr.com.
About AHFD
Based in Brentwood, Tenn., AHFD is a healthcare facilities development firm that offers hospitals a full suite of multidisciplinary planning, operations and program management services. Since 1989, the company has completed more than 675 healthcare planning and construction projects with a combined value of more than $5 billion. AHFD is a subsidiary of Quorum Health Resources (QHR), which has provided consulting, management and education resources to hospitals and health systems for three decades. For more information, please visit http://www.ahfdllc.com.
###