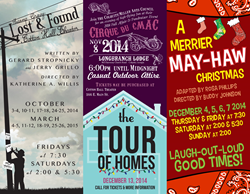 Colquitt, GA (PRWEB) August 26, 2014
The Colquitt/Miller Arts Council is perhaps best known for its flagship production, "Swamp Gravy." Begun in 1992 and named Georgia's Official Folk Life Play by the state legislature in 1994, Swamp Gravy has been delighting audiences with true tales of Southwest Georgia for 22 years. This year is no different, and October brings with it a brand new installment titled "Swamp Gravy: Lost & Found." Tickets for this production are on sale now at http://www.swampgravy.com or by calling 229-758-5450.
CMAC isn't only about Swamp Gravy, though. Three more major projects fall under their umbrella: New Life Learning Center, an arts-based preschool for ages 2-4 and after school/summer camp program for ages 5-12; Market on the Square, a small-business incubator where artists and entrepreneurs can sell their wares; and the Millennium Mural Project, currently boasting 16 beautiful murals which continue the tradition of storytelling begun by Swamp Gravy.
The Colquitt/Miller Arts Council is excited to announce three more events to round out 2014, all of which support the work CMAC does in its community. First up is the 2nd Annual "Fall Affair" Dinner and Auction on November 8, 2014. Last year's event, themed "Jeans and Jewels," was a smashing success. This year CMAC seeks to top that event with "Cirque du CMAC," an evening of high-flying entertainment featuring a troupe of aerialists and acrobats from Infinity Circus Productions. The evening will also include live music, delicious food, and the opportunity to bid on some wonderful items.
Next up is the Cotton Hall production "A Merrier May-Haw Christmas." This spirited Christmas production blends lighthearted comedy with beloved Christmas music, to create an evening that will put the entire family in the Christmas spirit to start the season. The production runs December 4-7, 2014, with performances Thursday and Friday at 7:30 PM, Saturday at 2:00 and 5:30 PM, and Sunday at 2:00 PM.
2014 culminates with the 2014 Holiday Tour Of Homes Saturday, December 13th. Guests are invited into the beautiful homes of local residents, to share some holiday merriment, revel in the festive decoration, and maybe get some inspiration for their own homes. The afternoon ends at Cotton Hall, for refreshment and to enjoy the displays at the very first Cotton Hall Art Show.
For more information about these and future events, please call 229-758-5450.