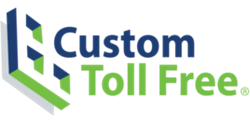 "Companies always wonder if having a toll-free vanity number would make a difference," says Christy Green, VP of Sales and Marketing at Custom Toll Free. "Now they can find out — with no cost and no obligation."
Mill Creek, Washington (PRWEB) August 26, 2014
Custom Toll Free is making it possible for businesses to test-drive a toll-free number. The 30-day trial includes a custom vanity number and 100 free minutes of toll-free calls.
"Companies always wonder if having a toll-free vanity number would make a difference," says Christy Green, VP of Sales and Marketing at Custom Toll Free. "Now they can find out — with no cost and no obligation."
During the test-drive period, businesses can use the number as part of an ad or marketing campaign.
"Companies can immediately use Custom Toll Free's patented search tool to select a great toll-free number," Green says. "They can request a number that makes use of business keywords such as their business name, product, special event or campaign."
Custom Toll Free will suggest 50 possible vanity numbers. All the customer needs to do to start the free trial is select a number. Once the number is chosen, Custom Toll Free sets up the account within 24 hours and the 30-day test drive begins.
An online account management tool, included in the promotion, tracks call history and makes it easy for you to monitor call results.
"A custom toll-free number means convenience for the customer and credibility for the company," Green says. "A test drive is a great way for managers in sales, marketing, and customer service to explore the possibilities and see why so many companies have put toll-free calling at the heart of their operations."
About Custom Toll Free
Custom Toll Free is a national leader in consumer awareness and brand marketing, offering vanity toll-free phone numbers to selling customers. Custom Toll Free was founded by Christopher Rugh in an effort to assist companies to promote their businesses. Rugh found that toll-free calling was a feature most consumers "found invaluable and a vital link between a company and its customers." Custom Toll Free provides world-class business support tools and resources for customer satisfaction.
For more information on Custom Toll Free's business solutions, visit CustomTollFree.com or call 1-800 CUSTOMIZE.