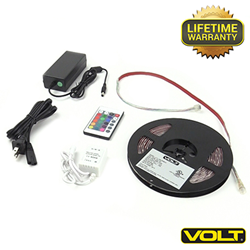 Our Strip & Under-Cabinet Lights use the industry's best LEDs.
Tampa, Florida (PRWEB) October 27, 2014
VOLT Lighting, a manufacturer and distributor of high-performance lighting products, announces the launch of new lines of customizable LED Strip Lighting and LED Under Cabinet Lighting.
The LED Strip Lights are narrow and flexible tapes (with adhesive backing) that come on rolls and can be cut to size. The Under Cabinet lighting is also a type of strip lighting, but is enclosed in a fixed-length rigid channel for a more finished look.
Uses include lighting under kitchen cabinets and toe kicks, behind headboards and frames, and mounted in soffits and under shelves. While this type of light has become popular, most consumers are unable to recognize which are high-performance products and which are of lesser value.
Heather Weston, VOLT® Lighting's LED Product Manager, explains the quality factors that guided the development of the new LED Light Strips and LED Under Cabinet lights. "First, we looked at performance; many of the cheaper products have low-quality LEDs with inconsistent color and inefficient operation. Our strip and under cabinet lighting uses the industry's best LEDs with the highest efficiency and that deliver the most consistent color. We made other quality-enhancing decisions, such as the use of non-yellowing coating, robust corrosion-resistant connectors, extremely aggressive 3M® adhesive tape, and highly effective heat sinks to extend LED life."
The popularity of Flexible LED Strip Lights (also known as 'LED Tape Lights') and LED Under-Cabinet Lighting arise from two things: Their versatility (can be used almost everywhere) and their ease of installation. The VOLT® lights share these qualities and include other features not found in many competitive products. These include 2-way, 3-way, and 4-way connectors – accessories that greatly expand mounting options. Other features include models that vary in brightness, have warm or cool color temperatures, can be dimmed, change color, and be used in dry or damp locations. The products are also UL listed.
Another exclusive VOLT® Lighting feature is a service that allows consumers to order custom lengths of the light strips. This addresses the problem shoppers face when they attempt to purchase strip lighting of a certain length, but find that stores have a very limited selection (with strips that are either too long or short). VOLT® Lighting allows consumers to select the exact size they need (in one-foot increments). This customization capability is unique in the industry, and reflects the customer-centric nature of the company.
Communications Director, Stephen Parrott, explains how VOLT® Lighting is able to provide customizable products to the consumer, "VOLT® uses a direct-to-consumer model that frees up significant resources. This allows us to: 1) Offer high quality for very low prices; 2) Invest in product development; and, 3) Provide world-class customer support. All these areas benefit the consumer, and enable us to bring quality products (some of them customizable, such as these Flexible LED Strip Lights) to market. Other lighting companies waste valuable resources through inefficient distribution; VOLT® conserves these resources and converts them into benefits for the consumer."
The company plans to continue the process of providing LED replacements for all lighting in both home and office. Individuals are invited to visit the VOLT® Lighting website to learn more about LED conversion options – or to contact Customer Support (Monday-Friday 8am-8pm, Saturday & Sunday 10am-6pm EST) at 813-978-3700 or customersupport(at)voltlighting(dot)com.
About VOLT® Lighting
Based in Tampa, Florida, with warehouses nationwide, VOLT® Lighting manufactures and distributes high-performance indoor and outdoor lighting products. VOLT®'s line of durable outdoor LED fixtures and indoor LED light bulbs carry the industry's best warranty. For more information go to http://www.voltlighting.com