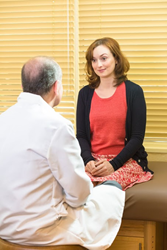 Atlantic Spine Center offers complete care for the spine.
West Orange, NJ (PRWEB) August 26, 2014
Atlantic Spine Center, nationally known for their state-of-the-art and minimally invasive surgical techniques, expands their service scope and team of specialists for back and neck care. A refreshing comprehensive approach, their team includes specialists in the areas of chiropractic care, acupuncture, massage therapy, physical therapy, pain management, and minimally invasive spine surgery. This well-designed team is just another example of how Atlantic Spine Center is constantly vigilant of the needs of patients and the most modern approaches to medical care.
Organized efforts from Dr. Kaixuan Liu, president of Atlantic Spine Center, and his entire team at Atlantic Spine Center provides patients with this new expansive experience from the front desk to the clinical specialist that is right for them. The patient can rest assured that their preferred treatment approach with be addressed whether it be conservative, non-surgical, therapy or someone that is considering a surgical procedure. In-office consultations to discuss the best therapy for back pain or neck pain are available by calling or contacting Atlantic Spine Center through their website at http://www.atlanticspinecenter.com.
The patient-friendly and comfortable environment that Atlantic Spine Center delivers involves an ongoing commitment to patient teaching and consistent staff education on in the latest, most efficient therapies and techniques to treat back pain and their new additional services is proof of just that.
More about Dr. Liu: Kaixuan Liu, M.D., Ph.D., is a renowned endoscopic spine surgeon and President of Atlantic Spine Center in New Jersey (http://www.atlanticspinecenter.com). Dr. Liu is certified by The American Board of Pain Medicine and is a member of The International Society for Advancement of Spine Surgery, The American Society of Interventional Pain Physicians (ASIPP), The American Academy of Pain Medicine (AAPM), The International Intradiscal Therapy Society (IITS), and The American Society of Anesthesiologists (ASA).