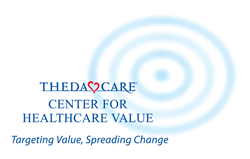 Appleton, WI (PRWEB) August 26, 2014
The ThedaCare Center for Healthcare Value welcomes two new members to its networks. The Seattle Cancer Care Alliance (SCCA) has joined the Center's Clinical Business Intelligence Network (CBIN) and Herman Miller Healthcare, a national supplier of healthcare furniture, recently joined the Healthcare Value Network (HVN) as a sponsor member.
Both networks are peer-to-peer learning communities, respectively bringing together healthcare leaders in clinical analytics and business intelligence, and those focused on providing high-quality, cost-effective care through the application of lean concepts.
CLINICAL BUSINESS INTELLIGENCE NETWORK
"CBIN members have multiple opportunities throughout the year to learn, share and connect with each other at organized events. This collaboration accelerates the spread of clinical business intelligence by helping members realize greater value from their data and by supporting the performance improvement journeys of their organization," said Julie Bartels, executive vice president of National Health Information for the Center, which facilitates both networks.
The SCCA is very excited about the opportunities that this network provides. "We believe that being part of this community of learners will help us all accelerate our performance improvement work. And, we hope we are able to provide value for the other network members as well," said Camille Rapacz, director of SCCA's Continuous Performance Improvement and Enterprise Project Management Office.
HEALTHCARE VALUE NETWORK
Established in 2009, the HVN was founded by the Center and the Lean Enterprise Institute, and is now an integral part of the Center and its healthcare mission. Mike Stoecklein, director of the HVN, shared the importance of adding sponsor members to the network. "Sponsor members like Herman Miller have the opportunity to collaborate with lean healthcare leaders, helping to create a provider/vendor relationship based on lean principles," he said. "If we are going to change an entire industry, it will take leaders beyond care delivery."
Herman Miller Healthcare echoed that sentiment. "We are proud to join the Healthcare Value Network and share our own lean journey which began in our manufacturing facilities over a decade ago," said Louise McDonald, president of healthcare, Herman Miller. "Lean thinking has become a key value in our commitment to understanding the changes in clinical and administrative workflows. Our focus on continuous improvement drives our research into how we can help all caregivers involved in improving the patient experience perform at their best."
THE SEATTLE CANCER CARE ALLIANCE
Seattle Cancer Care Alliance is a cancer treatment center that unites doctors from Fred Hutchinson Cancer Research Center, University of Washington Medicine and Seattle Children's. Our goal, every day, is to turn cancer patients into cancer survivors. Our purpose is to lead the world in the prevention and treatment of cancer. SCCA has five clinical care sites: an outpatient clinic on the Hutchinson Center campus, a pediatric inpatient unit at Seattle Children's, an adult inpatient unit at UW Medical Center, a medical oncology clinic at Halvorson Cancer Care, and radiation oncology and medical oncology clinics at UW Medicine / Northwest Hospital. Additionally, proton therapy services are provided at SCCA Proton Therapy, A Procure Center. For more information about SCCA, visit seattlecca.org.
HERMAN MILLER HEALTHCARE
Herman Miller Healthcare brings together the comprehensive offer of Herman Miller, Geiger and Nemschoff, to help healthcare organizations and their partners create environments for people to work well, get well, and live well. Driven by a deep commitment to research-based, problem-solving design, they collaborate with industry thought leaders and world class designers to inspire, develop, and manufacture innovative furnishings and equipment centered on the needs of the people who work throughout healthcare systems. With 80 years of combined healthcare industry experience, and a team of clinical and workplace strategists, Herman Miller Healthcare's solutions improve the work experience and performance of professionals wherever care is delivered, supported or administered.
THEDACARE CENTER FOR HEALTHCARE VALUE
The ThedaCare Center for Healthcare Value is an education institute that believes we must have three essential elements for sustainable change in healthcare: delivery of care designed around the patient; payment and incentives based upon value and outcomes; and transparency of performance (quality and cost) throughout the healthcare system. Founded in 2008 and headquartered in Appleton, Wisconsin, we are a small not for profit with a big mission to help change the healthcare industry. Learn more at: createvalue.org.