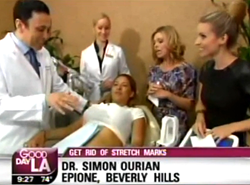 Los Angeles, CA (PRWEB) August 25, 2014
On August 23, 2014, Elle Magazine posted an article on its website titled "32 Surprising Things that are Destroying Your Skin." The article includes the usual litany of skin damaging items and actions such as chlorine, excess sodium consumption, yo-yo dieting, and failing to get enough sleep. Simon Ourian, Medical Director of Epione Beverly Hills, believes that the inclusion of a few items on the list should be scientifically substantiated such as the impact on one's skin of skipping meals or talking on the phone." (see:goo.gl/4T9kcA)
On the Feb 23, 2014 episode of Keeping up with the Kardashians titled "2 Birthdays and A Yard Sale," Dr. Simon Ourian performed a stretch mark removal procedure on Kim Kardashian.
"The title of the article states that one should be 'surprised' by the items on the list," says Dr. Simon Ourian, "but, in fact, there really aren't any surprises on the list. Is anyone really surprised to learn that it's a bad idea to pop pimples or that it's important to stay hydrated?"
The Elle.com list also includes suggestions such as allowing your skin three weeks to regenerate after waxing, making sure to keep hair care products away from the face, and staying away from long, hot showers as they can cause dry, scaly skin.
"I do like the fact that the list calls attention to some things that are often neglected such as remembering to protect one's lips," says Dr. Ourian.
Dr. Ourian has been a pioneer in laser technology and non-invasive aesthetic procedures including Restylane, Juvéderm, Radiesse, Sculptra, and CoolSculpting. These treatments are used for the correction or reversal of a variety of conditions such as acne, acne scars, skin discoloration, wrinkles, unwanted fat, stretch marks, varicose veins, cellulite, and others. More information about skincare can be found on Epione's website.