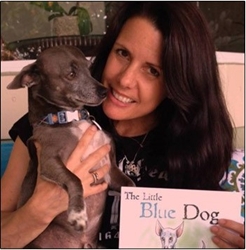 As an author, I strive to inspire leadership and advocacy in the younger generations. Children who learn to respect nature and love animals will become the adults who protect and preserve the planet and our resources.
Schaumburg, IL (PRWEB) August 26, 2014
The formation of "The Little Blue Dog" is a fairytale in itself. Something straight out of a Hollywood script really. It incorporates the elements of tragedy, survival, hope, and second chances. After reading and analyzing this moving story, eBooks2go was proud to declare Karen J. Roberts the winner of its first-ever Children's Book Contest. The e-publishing pundit is even more excited to finally put "The Little Blue Dog" on digital shelves. A little over a month after being awarded 1st prize in the 2014 competition, Roberts' children's tale has now been converted into three Fixed Format layouts and will be offered through the company's various retail partners.
Perhaps the most intriguing element of Roberts' account is the fact that there lies a story within the story. After the passing of both of her parents, Karen Roberts was lost. Recovering from such a heartbreaking ordeal wasn't going to be a walk in the park. In the back of her mind, Roberts knew in order to overcome the adversity set before her, she needed to do something positive. Little did she know, a 4-year-old Chihuahua/Italian Greyhound mix would change her life forever. Waiting at Northeast Animal Shelter in Salem, Massachusetts was a little blue dog chomping at the bit to breakout of the clutches of cages and arrive in the grasps of loving caregiver. Once the duo came together, there would be nothing that could tear them apart. Together, Karen and Louie helped each other escape the forces holding them back, and used one another to quell old memories in order to make new ones.
Based on the real life story of Karen's adopted dog Louie, "The Little Blue Dog" is the first book in the LBD series. Roberts enchanting anecdote compels readers to sympathize, and eventually become infatuated with Louie as he displays bravery and faith for a second chance as a shelter dog. A 2013 National Indie Excellence Award Winner, "The Little Blue Dog" promises to be a fabulous addition to any eReader's bookshelf.
Roberts, a Syracuse University grad, has spent her entire professional career in Healthcare Information Technology. A fervent animal devotee and pet owner, Karen's hobbyhorse is animal advocacy. When she's not crafting wonderfully prevailing tales, the author doubles as an animal rights activist, rescue volunteer, and a humane educator.
The Little Blue Dog was started as a way to give back to the rescue community, to help provide support for rescue organizations, raise awareness and funding for the animals, and contribute to humane education for the younger generations. This project is 100% volunteer-based and all proceeds earned go into improving the lives of animals. Roberts formed the children's book series to educate kids about accountable pet ownership and consideration for animals. Karen's tales incorporate affable personas and motifs of compassion to encourage a constructive message for children of all ages. She wishes to influence social change regarding family pets and selecting adoption with her content and hopes to assist the younger generation comprehend the significance of animal kindness.
Ancillary to her writing accomplishments, Roberts continues supporting animal rescue and other charitable endeavors by donating and volunteering her time in the classroom. The LBD creator bequeaths gift baskets, books, and products for fund-raisers in an attempt to raise awareness and money for organizations like the Beagle Freedom Project, Get a Life Pet Rescue, and Broward Animal Care and Adoption. The author's humane education program teaches kids, ages 3 to 13, an assortment of animal kindness and activism topics. The writer participates in after school programs and special events such as Read Across America Day, Literacy Night, and Story Time at The Schoolhouse Children's Museum & Learning Center.
This is a fantastic book for children to snuggle up and read with the family pet or their favorite stuffed animal. It's never too early to help them absorb the implications of adoption or the gravity of supplying homeless shelter animals with a good home. One of the driving forces behind Roberts' efforts is teaching youngsters the motto, Adopt, Don't Shop. It is The Little Blue Dog architect's ultimate goal to find a way to close down puppy mills and to put an end to pet stores selling animals.
For more information on The Little Blue Dog, Karen's crew of canines, or her efforts please visit http://www.thelittlebluedog.com. The book is available for purchase digitally on iTunes, Amazon, Barnes & Noble, GooglePlay, Kobo, OverDrive, and eBooks2go.com. Remember, 100% of all profits from the book and products will be donated to The Little Blue Dog's animal rescue and shelter partners. Grab a copy today and help grant other pets like Louie the opportunity to exit a shelter and enter a home.
Be sure to follow The Little Blue Dog on Facebook and Twitter too!
# # #
eBooks2go, the digital arm of Gantec Publishing Solutions LLC, is a full-service conversion provider as well as a supplier of end-to-end solutions for the digital space. Owned and operated out of Schaumburg, Illinois, the organization strives to make the world of online publishing easy and affordable for independent authors, writers, and publishers.
Interested in digital conversion services? Contact eBooks2go by e-mail at info(at)ebooks2go(dot)net or call (847) 598-1150 to learn more about the company's offerings.