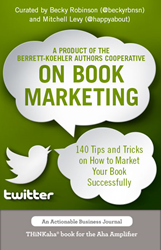 San Francisco, CA (PRWEB) August 26, 2014
After a successful marketing workshop last month, members of the Berrett-Koehler author community banded together to create increased impact for all their ideas, creating opportunities for collaboration and engagement.
Mitchell Levy and Becky Robinson, who attended the marketing event, pulled together the best quotes from the event's presenters in an Aha Amplifer title "Berrett-Koehler Authors Cooperative on Book Marketing."
"At any event, participants are overwhelmed with a flood of new information. Our new Aha Amplifier title, curated from the presentations at the Berrett-Koehler Book Marketing Event, captures the stickiest ideas worth implementing in tweet-length bursts. On the Aha Amplifier, they are easy to review and share with others," Mitchell Levy said.
"Not everyone can attend the conference," Becky Robinson said. "So gathering the best ideas is a service not only to the Berrett-Koehler community but also to a larger group of authors interested in learning about book marketing."
Inspired by the camaraderie of the group to create more opportunities, long-time community member, Eileen McDargh, organized more than 30 authors from the Berrett-Koehler community to crowdsource tweet-length ideas into another new book, published on the Aha Amplifer, Berrett-Koehler Authors on "Making a Better Workplace."
About creating and crowdsourcing a book, McDargh said, "The BK community of authors represents deep expertise and vast experience. It's easy to feel alone in creating impact for our messages. As we join together to share the best ideas from our community, we will each reach a wider audience and make a bigger difference."
The Aha Amplifier (ahaamplifier.com) is an online platform created by Mitchell Levy. Aha Amplifier books contain small, impactful bursts (all potential "Aha" moments) which are easily shared through online channels. The platform contains over 14,000 Ahas from over 100 thought leaders, which can be accessed with a complimentary login.
Find out more about The Berrett-Koehler Author Cooperative or the Aha Amplifier by visiting the below shown website.