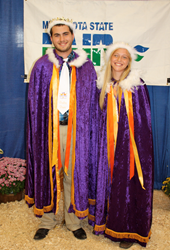 Our state shows true vitality through its poultry industry and the Poultry Prince and Princess Program is a great way to educate not only those who are a part of Minnesota agriculture, but also fairgoers
MINNEAPOLIS (PRWEB) August 26, 2014
Tyler Amick, an 18 year-old from Austin in Mower County, and Hayley Carlson, a 17 year-old from Motley in Cass County, were granted a Gold'n opportunity on Sunday, August 24, after winning the fifth-annual Poultry Prince and Princess Contest. The scholarship program of Minnesota 4-H and Gold'n Plump® recognizes the knowledge, leadership and skills of Minnesota's youth in the state's poultry industry by awarding two teenagers with poultry ambassador titles and $1,000 academic scholarships.
The contest took place August 21 through 24, 2014, for eligible Minnesota State Fair 4-H poultry participants. Tyler Amick and Hayley Carlson stood out among the dozens of contestants, claiming the title after ranking highly in the qualifying rounds of the 4-H poultry showmanship competition and chicken BBQ contest, and then the final Q&A/stage presence round. Runners up included:

Andrew Gathje of Stewartville for Fillmore County
Joseph Surerus of Donnelly in Stevens County
Mary Sarah Sauber of Motley in Cass County
Mariah Huberty of Harris in Chisago County
Sunday's finals required the top six contestants to showcase their poultry knowledge with confidence and personality answering questions like "What are basic signs of good health in chickens?" and "If you were asked to promote raising healthy chickens to feed Minnesota families, what would your slogan be and why?" Last year's winners, Alex Oelke of Otsego for Sherburne County, and Kristina Allen, of Rochester in Olmsted County, were in attendance to pass on the festively feathered royal garb.
Along with $1,000 scholarships, the Poultry Prince and Princess will have the opportunity to expand their speaking, interview and presentation skills through industry and publicity appearances during their year-long term and will receive royal portraits created by the official State Fair artist, Emily L. Taylor.
"Our state shows true vitality through its poultry industry and the Poultry Prince and Princess Program is a great way to educate not only those who are a part of Minnesota agriculture, but also fairgoers looking for a unique experience at the Minnesota State Fair," said Rory Bidinger, brand advocacy and marketing manager for GNP Company™, the company behind the Gold'n Plump brand.
"4-H is dedicated to developing the next generation of agriculture leaders in Minnesota," said Brad Rugg, director of 4-H Fairs and Animal Science Programs, University of Minnesota Extension Center for Youth Development. "The Poultry Prince and Princess scholarship program is a wonderful way to support these emerging leaders."
About Gold'n Plump® Chicken | Good Chicken is Our Mission™
Gold'n Plump® is distributed nationally by St. Cloud, Minn.-based GNP Company—a family-owned provider of premium branded and custom chicken products to retail, deli and foodservice customers. The brand's good chicken mission centers on being truly all natural, highly trimmed and free of unwanted solution, skin and parts. The company employs about 1,700 people and partners with nearly 350 family farmers in Minnesota and Wisconsin to produce wholesome, high-quality chicken. To learn more about the Gold'n Plump brand and its products, as well as find great recipes, general cooking and safe handling tips and nutrition information, visit GoldnPlump.com and find Gold'n Plump on Facebook, Twitter, Pinterest and YouTube. For more information about the company, visit GNPCompany.com.
About Extension 4-H
Minnesota 4-H is an after-school youth development program provided through the University of Minnesota Extension. The 4-H mission is to engage Minnesota youth in quality learning opportunities that enable them to shape and reach their full potential as active citizens in a global community. Last year, more than 75,000 kids throughout Minnesota participated in 4-H and learned invaluable life skills. According to a 2009 report from a Tufts University national study, 4-H youth are more than twice as likely to be civically active and make contributions to their communities, and are 47 percent less likely to have risky or problem behaviors. For more information about the program, visit extension.umn.edu/youth/mn4-H.
###
View photos of the 2014 contest online at Gold'n Plump's Facebook page http://www.facebook.com/GoldnPlump.