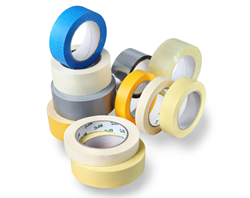 Tapes Plus has been on our radar as a perfect fit for Jaco and when the opportunity arose, we moved very quickly.
Pasadena, CA (PRWEB) August 28, 2014
Jaco Aerospace and Industrial, Inc. - the world's fastest growing supplier of aircraft maintenance, repair and overhaul consumables (MRO) – today announced the acquisition of Tapes Plus, Inc., an innovative, recognized, consumer-focused world-wide distributor of tape products based in Torrance, CA.
Berel Schusterman, CEO of Jaco, said, "Tapes Plus has been on our radar as a perfect fit for Jaco and when the opportunity arose, we moved very quickly. This purchase continues our long-range plan of growing organically through industry leading technology, customer satisfaction and strategic acquisitions. Tapes Plus is our fourth acquisition, continuing our expansion.
"One of our competitive separators is that we provide the same product base as many larger corporations, but with the benefits that a smaller business can provide: personal service. Customers are not just a sales point to us – we recognize our role in supporting their work, and we do not take that responsibility lightly.
"With the purchase now completed, we have exclusive distributor relationships with leading tape manufacturers such as 3M, Polyken, Permacel, Nashua, Shurtape and many more. Jaco now also has the ability to perform custom tape sizing for special customer requirements. As a stockist/distributor, Jaco is sure to have the adhesive tapes companies need, whether for industrial or aerospace use."
As a result of the acquisition, Jaco has increased their warehouse facilities to accommodate the Tapes Plus incoming stock and processing equipment.
While the purchase price was not disclosed, Jaco expects the acquisition to be immediately accretive to earnings.
About Jaco
Since 1971 Jaco has been providing high quality chemicals, tapes, raw materials, hardware, adhesives and consumables to the commercial airline and aerospace industries. As an authorized distributor for a host of internationally recognized manufacturers, they have close to 45 years of distribution experience, and provide immediate delivery of quality factory new products to their customers.
Jaco is a woman-owned company, with a focus on diversity within and with our suppliers.
Please contact Rick Oberndorf, Jaco COO, at 626-855-2870, ext. 412, regarding requests for more information about this acquisition.