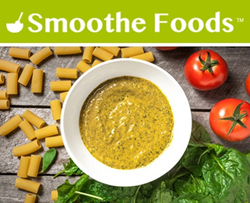 CWI Medical is dedicated to meet the needs of Caregivers and their loved ones. Offering Delicious & Convenient frozen pureed meals is another example of their commitment.
Huntington, NY (PRWEB) August 27, 2014
As part of its 2014 plan to continue expanding nationwide, Smoothe Foods now announces that its products will be offered on CWI Medical's website, (http://www.cwimedical.com). CWI Medical is based out of Farmingdale, NY, and works with healthcare solution providers to supply medical and healthcare products, as well as equipment. They are dedicated to meet the needs of Caregivers and their loved ones.
Smoothe Foods offers soft, pureed foods to the healthcare industry and to private consumers, who seek meals with quality nutritional content and taste. In addition, the meals are optimal for those with dysphagia, or difficulty swallowing; chewing sensitivities; impairments; eating disorders; as well as those with illnesses, such as cancer, Alzheimer's, Parkinson's, strokes, and more.
"Our meals are perfect for individuals living at home or in a facility, who want to maintain their independence but are unable to eat solid foods for fear of potential choking episodes," said Karen Betz. "And, on that note, our meals are perfect for anyone wanting quality taste without extensive fillers that are found in many soft and pureed food products on the market these days. As one with experience with a parent with dysphagia myself, I find that it's reassuring to know we can offer a line of great tasting foods to encourage people to eat. Nowadays, malnutrition, especially among those with health impairments, is a main contributor towards early hospitalizations and other complications."
Smoothe Foods offers bulk order services, as well as home delivery services. Their new menu includes three bean chili, frittata, spinach lasagna, Swedish meatballs, and more. Each meal is crafted with real food tastes in mind. Customers can also enjoy the kosher rating, as well as variety packs that contain 24 six-ounce frozen vegetarian meals.
"By working with CWI Medical," said Betz, "we are opening ourselves up to new markets, and introducing ourselves to industries that can benefit from our products. In my experience, I've worked with anywhere from nursing facilities to the average person who needs a quick and easy pureed meal. I'm a huge fan of our line of foods, and my new personal favorite is the Swedish Meatballs."
For more information about Smoothe Foods and its partnerships, visit http://www.smoothefoods.com.
About Smoothe Foods
Smoothe Foods is a line of soft and pureed menu items that are nutritious and great tasting. The company ships nationwide, and focuses on providing gourmet meals to help ensure those with special dietary needs have a delicious option and variety. We offer a small, select menu which new additions every 6 months with a focus on taste.
For more information, visit http://www.smoothefoods.com, or call (631) 424-4005 or email info(at)smoothefoods(dot)com.