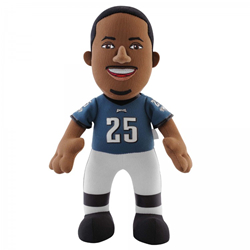 NFL Players Inc. is always seeking interesting new ways to reveal to fans a different side of the players.
Plymouth Meeting, PA (PRWEB) August 25, 2014
Bleacher Creatures, the NFL and NFL Players Inc. announced today the launch of the 2014 NFL player plush collection, which includes more than 50 NFL stars. Each of the incredibly true-to-life 10-inch plush toys retails for $19.99 and will be available September 1 at NFL stadium stores, NFLshop.com and at bleachercreatures.com.
"We're excited to give fans of any age the chance to extend their enthusiasm from the stadium into their own lives," said Matthew Hoffman, founder of Bleacher Creatures. "Whether fans are recreating great plays on the field, assembling their own fantasy teams, or just hanging out with their favorite players, these plush figures will encourage fans to put their passion in play."
Designed to inspire and entertain fans of all ages, the new line of plush characters features some of the most popular NFL stars in the game today including Drew Brees (New Orleans Saints), Larry Fitzgerald (Arizona Cardinals), Colin Kaepernick (San Francisco 49ers), Andrew Luck (Indianapolis Colts), Peyton Manning (Denver Broncos), Johnny Manziel (Cleveland Browns), LeSean McCoy (Philadelphia Eagles), Adrian Peterson (Minnesota Vikings), Troy Polamalu (Pittsburgh Steelers) and Richard Sherman (Seattle Seahawks).
The complete list of 2014 NFL player Bleacher Creatures plush figures is listed below.
"NFL Players Inc. is always seeking interesting new ways to reveal to fans a different side of the players," said Steve Scebelo, NFLPI Vice President, Business Development and Licensing. "We're excited to partner with innovators like Bleacher Creatures to do just that, as they transform some of the NFL's most ferocious competitors into really lifelike plush characters that football fans of all ages can enjoy throughout the season."
###
ABOUT BLEACHER CREATURES
Bleacher Creatures is an innovative sports licensing manufacturer and marketer that produces a variety of children's toys through partnerships with professional sports leagues. Bleacher Creatures creates, develops and delivers trend-relevant products providing toys and collectibles to young sports fans—those fans who are young-at-heart. Officially licensed by NFL Properties LLC and NFL Players Inc., the licensing and marketing arm of the NFL Players Association.
About NFL Players Inc.
NFL Players Inc. is the licensing and marketing subsidiary of the NFL Players Association. NFLPI has been a trusted resource since 1994, delivering access to the influence, power and personal stories of NFL players. NFLPI is a "one-stop shop" for businesses seeking licensing rights, access to players through hospitality and events, marketing strategy and player procurement. For more information, please visit http://www.nflplayers.com/info.
LIST OF 2014 NFL PLAYER BLEACHER CREATURE PLUSH FIGURES

Arizona Cardinals: Larry Fitzgerald
Carolina Panthers: Cam Newton, Luke Kuechly
Chicago Bears: Jared Allen, Jay Cutler
Cincinnati Bengals: A.J. Green
Cleveland Browns: Johnny Manziel
Dallas Cowboys: Dez Bryant, Jason Witten, Tony Romo
Denver Broncos: Peyton Manning, Von Miller, Wes Welker
Detroit Lions: Calvin Johnson
Green Bay Packers: Aaron Rodgers, Clay Matthews, Eddie Lacy, Randall Cobb
Houston Texans: J.J. Watt
Indianapolis Colts: Andrew Luck
Kansas City Chiefs: Jamaal Charles
Miami Dolphins: Ryan Tannehill
Minnesota Vikings: Adrian Peterson
New England Patriots: Rob Gronkowski, Tom Brady
New Orleans Saints: Drew Brees, Jimmy Graham
New York Giants: Eli Manning, Victor Cruz
Philadelphia Eagles: LeSean McCoy, Nick Foles
Pittsburgh Steelers: Ben Roethlisberger, Heath Miller, Troy Polamalu
San Diego Chargers: Antonio Gates, Philip Rivers
San Francisco 49ers: Colin Kaepernick, Patrick Willis
Seattle Seahawks: Earl Thomas, Marshawn Lynch, Richard Sherman, Russell Wilson
St. Louis Rams: Tavon Austin
Tampa Bay Buccaneers: Doug Martin
Washington Redskins: Robert Griffin III