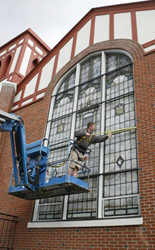 (PRWEB) August 26, 2014
Associated Crafts is proud to announce the recent completion of a historic window restoration project at First United Methodist Church in Bend, Oregon. Over the course of several months Associated Crafts restored 13 windows at the historic church.
The church, located in the beautiful and historic downtown district of Bend, was built in 1922. The 13 windows restored by Associated Crafts date back to the original construction of the church. The original creator of the windows was Povey Brothers Studio of Portland, the largest and most well-known producer of stained glass in Oregon during the late 19th and early 20th centuries. According to Portland's Architectural Heritage Center, Povey stained glass windows were highly regarded as the "Tiffany's of the Northwest."
"We were ecstatic to be a part of this project, especially considering the historical magnitude of these particular windows," said Mary Phillips, VP of Special Projects at Associated Crafts. "Our team worked diligently for several months to carefully bring these pieces of art back to life, and we are very pleased with the outcome."
The restoration project included repairing the bulging and sagging windows, sealing cracks in the glass, installing steel braces for support and replacing the worn out protective covering on the outside of the windows with pure-cast acrylic.
In addition to stained glass window restoration and preservation, Associated Crafts specializes in new stained glass window design and creation, from start to finish.
To learn more about Associated Crafts' projects and services, please visit http://www.associatedcrafts.com.
About Associated Crafts
Founded in 1997 by John and Mary Phillips, Associated Crafts is a family-owned and operated Stained Glass studio specializing in the restoration, installation, design and preservation of church stained glass windows. The company's expertise culls from John Phillips' more than 30 years in every aspect of the stained glass business, following his father's footsteps in the industry. For more information, visit http://www.associatedcrafts.com.