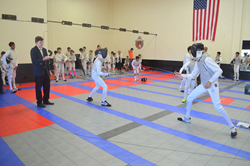 We consider [hosting Bay Cup tournaments] a community mission to grow the popularity and skill level of fencing in our area, so we want to serve our community and this mission by creating an exceptional atmosphere
Campbell, CA (PRWEB) August 27, 2014
The AFM facility in Campbell, CA (just outside of San Jose) provides an elite environment for fencers while also offering a comfortable and safe environment for family and friends to watch and cheer, making it an obvious choice for Bay Area competitions. With six competitive strips, nine full-length practice strips, dressing rooms, a spectator lounge, and a rest area, AFM is well-equipped to host large, local fencing tournaments.
AFM hosted six Bay Cup competitions last year with great success and resounding positive feedback. Participants commented on the well-organized tournaments and the impressive facilities. Not to mention that last year's events at AFM set a few Bay Cup records! One two-event tournament had almost 100 participants and another event included 58 fencers. Perhaps this season AFM will break its own records with another stellar year of Bay Cup events. You can even view the final bouts from last year's events at AFM by visiting their YouTube channel.
"We love hosting Bay Cup tournaments because we are proud to be part of the Bay Area fencing community and we are also proud of our facilities and of our town," explains AFM founder Irina Chirashnya. "We consider it a community mission to grow the popularity and skill level of fencing in our area, so we want to serve our community and this mission by creating an exceptional atmosphere. Our facilities provide a professional fencing environment while also making it easy and enjoyable for family and friends to support and cheer. One of my favorite features is the observation area on the second floor that overlooks the strips where family members can watch from above."
For those traveling in for the tournaments, the AFM Bay Cups provide a nice family destination. AFM is located in downtown Campbell, a vibrant area featuring local restaurants, a variety of shops, and many historical landmarks. Campbell is conveniently located close to three major highways (17, 85, 280) for easy transportation.
The Bay Cups seems to get more widespread with each year. Last year's events at AFM saw visitors from Los Angeles, Oregon, and Washington and this year AFM hopes to bring in even more fencers from the surrounding regions.
AFM will host the following seven tournaments, with the first having already completed this past weekend:

August 24, 2014: Y14 Men's Foil
September 14, 2014: Y14 Women's Foil and Cadet Women's Foil
October 11, 2014: Y10 Men's Foil
October 12, 2014: Y12 Men's Foil
October 19, 2014: Y12 Mixed Epee & Y14 Men's Epee
March 22, 2014: Y14 Men's Foil
June 7, 2015: Y12 Men's Foil
All AFM Bay Cup tournaments are open for registration online at askFred.net. For information about Academy of Fencing Masters, please visit AFM website.
About Academy of Fencing Masters:
Academy of Fencing Masters seeks to develop all levels of fencers, from beginners to Olympic athletes, through elite coaches, state-of-the-art facilities, and supportive community for both the fencer and the family. AFM prepares athletes for fencing and for life.