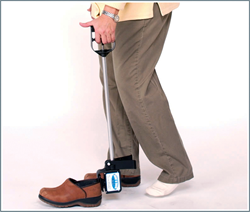 "Very few diabetics are aware of our Shoe Boot Valet and how it can assist them dealing with diabetes and it's disabling effects. We are working on educating them and easing their pain and frustration." Trent Morris, CEO, Valet Product Line.
Tulsa, Oklahoma (PRWEB) August 26, 2014
The Valet Product Line's http://www.shoebootvalet.com/, is the perfect product for people with dressing issues where bending and reaching is involved and will now be available internationally. It is the only product specifically designed to pull on and take off footwear with no bending or reaching required and it works well standing or sitting down. It has a gripping mechanism with a shoehorn curvature that facilitates the process. VPL also patented an attached bootjack that pops off any shoe or boot with ease, eliminating further mobility issues.
Diabetics have problems putting on and taking off their footwear because of pain and other mitigating factors from neuropathy and obesity. The nerves to the muscles become affected by the disease process. This makes the muscles feel weak and achy. Some of the first muscles to become affected are those in the thigh; other common muscles include the shin muscle and the small muscles of the feet.
Twenty-nine (29) million people in the US have diabetes- 2010 census and many more millions worldwide. The majority (70 percent) will eventually have serious problems from neuropathy which restricts blood flow to the feet causing progressive painful and disabling issues. Without proper foot care, amputation can be a result. Wearing proper footwear that provides support and comfort is imperative and has developed into a industry of its own, developing new shoe products and accessories.
The Valet Product Line is located in Tulsa, OK and manufactures unique assisted living devices for the millions of elderly, mobility challenged, rehab and dozens of other maladies that restrict bending and reaching. Our flagship product, the Shoe Boot Valet, is the only device with a gripping mechanism specifically designed to effectively assist in putting on and taking off footwear. The SBV, also, has an attached patented bootjack that removes any shoe or boot with ease. The newly patented "Sock Valet" will be out later this year and has a gripping mechanism that pulls socks and/or compression hosiery over the foot, ankle and up the calf with little to no bending or reaching required. To read more about these unique and desperately needed devices and see a demonstration video, go to http://www.shoebootvalet.com/ or call us at (918) 493-9464.