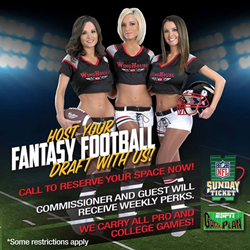 'I honestly cannot think of a better setting to host a fantasy football draft than in the company of the WingHouse Girls, with a basket of wings and a cold beer.'
Tampa, Fla. (PRWEB) August 25, 2014
Ready, set, hike! Start doing research now because Crawford Ker, CEO of Ker's WingHouse and former NFL player, is putting together a fantasy football draft for all of his restaurants to participate in. There is no better company than the famous WingHouse Girls when immersed in football.
The National Football League (NFL) season is finally upon us, and WingHouse is inviting football fans everywhere to host their fantasy football draft parties at one of their 24 locations. Florida residents already know WingHouse is the place to go to watch the games, and now they can create their fantasy football draft while in the restaurant of an NFL legend.
"Hosting fantasy football here at WingHouse just makes sense," explains Ker. "I honestly cannot think of a better setting to host a fantasy football draft than in the company of the WingHouse Girls, with a basket of wings and a cold beer."
Gather up teams and get ready to battle for the best players while plowing down on some tasty wings. As if it wasn't exciting enough to create a draft with WingHouse, the commissioner and guest of the teams will receive weekly perks. The managers of each restaurant will be in charge of the program and be in communication with the commissioners of the different groups.
Ker, is excited for the 2014 NFL season, and happy to discuss his predictions, perspectives and experiences. To schedule an interview, please contact me at (850) 980-2793.
About Ker's WingHouse
Founded by the National Football League's (NFL) Dallas Cowboys and Denver Broncos alumni, Crawford Ker, the first WingHouse opened in Largo, FL in 1994. The WingHouse staff's dedication and teamwork was a recipe for success. Now, WingHouse has over 24 locations throughout Florida with plans to grow into the rest of the Southeast.
All WingHouse restaurants are open for lunch and dinner and feature full-service bars with a wide selection of liquor cocktails and major domestic, imported, and specialty beers. Signature items include our "Naked" Chicken Wings: skinless drummettes marinated, baked, and tossed in one of our award winning wing sauces, and our Dallas Burger: two juicy 8 oz. BBQ burgers topped with bacon.
WingHouse features state-of-the-art TV packages for all the big games and fights. The authentic sports memorabilia and our fun, friendly, casual environment make WingHouse the ideal place to be a sports fan. Select locations offer WingHouse "Game Zones" complete with arcade style games and pool tables. The main attraction at the WingHouse is our version of "The Girl Next Door", the World Famous Winghouse Girls. The WingHouse Girls are the foundation of our concept. They serve tables, tend bar, work as hostesses, participate in brand promotions and are our company's cheerleaders.
The WingHouse Girls are attractive and polite. As ambassadors of our mission to be "brilliant on the basics", their great service, positive attitudes and pretty smiles encourage guests to make frequent visits and become loyal customers. The WingHouse strives to create quality and memorable experiences for every guest! We are very proud of our history, and are looking forward to our future! For more information, visit http://www.winghouse.com.
About Crawford Ker
Crawford Francis Ker is the founder and president of Ker's WingHouse. Ker is a former American college and professional football player who was a guard in the National Football League for six seasons during the 1980s and early 1990s. Ker played college football for the University of Florida, and thereafter, he played professionally for the Dallas Cowboys and the Denver Broncos of the NFL.