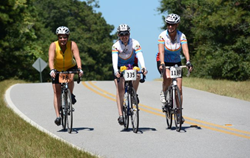 For each room reserved, the Bike MS event will receive a donation from Callaway Gardens
Pine Mountain, GA (PRWEB) August 28, 2014
More than 1,000 cyclists will be riding into town Sept. 19-21, 2014, for the Bike MS: Cox Atlanta Ride at Callaway Gardens, a proud partner of this event. Returning for the ninth year, participants will ride in this annual, long-distance cycling event that benefits the Georgia chapter of the National Multiple Sclerosis (MS) Society. This year's fundraising goal is $1.2 million to help find a cure for this devastating disease and to support those in Georgia living with MS and their families.
There are many ways to show our hospitality and help make their experience the best one ever.
Donate Your Time
Help the Georgia chapter staff throughout the weekend by volunteering to work at the check-in tables, setting up and breaking down the event site, assisting with parking and traffic, helping at refreshment break points along the route, serving as medical volunteers or cheering riders along the route.
There are several shifts available for each volunteer job Friday through Sunday. To sign up, call Rusty Benton, event specialist for the Georgia chapter, at 678.534.3588 or email him at russell.benton@nmss.org. To learn more about the event, visit http://www.bikems.org.
Put Out the Welcome Mat
The cyclists will be traveling throughout Harris and Meriwether Counties. Businesses, churches, schools and others are asked to post a welcome sign or an encouraging message to the group Sept. 19-21.
Stay Overnight and Benefit MS
Another great way to contribute is to stay overnight at Callaway Gardens' Mountain Creek Inn, Southern Pine Cottages or Mountain Creek Villas. Volunteers and participants can enjoy special-priced overnight rates. For each room reserved, the Bike MS event will receive a donation from Callaway Gardens; in fact, the more rooms reserved -- the higher the percentage of the donation.
Callaway Gardens is in Pine Mountain, GA, 60 minutes southwest of Atlanta and 30 minutes north of Columbus, GA. For additional information, call (800) 463-6990 or visit http://www.callawaygardens.com.
###
About The National Multiple Sclerosis Society, Georgia Chapter
The National Multiple Sclerosis Society, Georgia Chapter serves individuals with MS and their families in 159 counties statewide, and along with hundreds of volunteers, raises more than $2 million annually from events such as the Bike MS: Cox Atlanta Ride and nine Walk MS events throughout the state. Seventy-eight cents of every dollar raised goes directly to support local programs and research for a cure.
Visit http://www.MSgeorgia.org for information on programs and services.
About Callaway Gardens
For more than 60 years, Callaway Gardens has provided "a place of relaxation, inspiration and a better understanding of the living world" for millions of visitors. Owned and operated by the non-profit Ida Cason Callaway Foundation, Callaway Gardens includes a garden, resort, preserve and residential community on 6,500 acres in Pine Mountain, Georgia. Highlights include a butterfly conservatory, horticultural center, discovery center, chapel, inland beach, nature trails, a zip line/obstacle course and special events throughout the year.
In addition, Callaway Gardens offers nearly 80,000 square feet of meeting space, 689 guest rooms, restaurants, shops, golf, tennis, fishing and more.
Five unique, close-knit residential communities — with custom home sites, lakefront properties and cottages on the golf course — offer an ideal home away from home or full-time residence.
Callaway Gardens is home to a forest preserve which is under conservation easement. This conserved, sustainably-managed land is used for biological studies and environmental education programs.