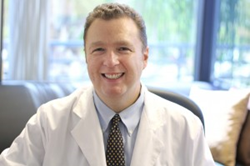 Replacing a blade with a laser helps to increase accuracy and potentially minimize complications during and after the procedure
San Diego, CA (PRWEB) August 26, 2014
Dr. Michael Tracy, ophthalmologist and LASIK surgeon in Carlsbad, offers his patients Intra-LASIK, a state of the art procedure that, unlike traditional LASIK, is completely bladeless.
During traditional LASIK, surgeons use a combination of a surgical blade and an excimer laser to correct various visual issues such as myopia, hyperopia, and astigmatism. During these procedures, a blade called a microkeratome is used to cut a flap in the cornea, after which an excimer laser reshapes the underlying corneal tissue.
During Intra-LASIK, however, an Intralase femtosecond laser offers a completely blade-free version of the procedure, eliminating the risk of potential complications that can arise from traditional LASIK using the microkeratome.
"In my experience, I've found that Intra-LASIK can offer more precision and control when creating the corneal flap during refractive surgery," says Dr. Tracy. "Replacing a blade with a laser helps to increase accuracy and potentially minimize complications during and after the procedure."
By being computer guided, a femtosecond laser provides an unprecedented amount of precision, allowing for the laser pulses to focus just below the surface of the cornea, creating a series of small bubbles that help to separate the flap from the rest of the cornea.
"Making a corneal flap with the femtosecond laser can yield better results, both in creating a better flap and in producing better final results," said Dr. Tracy.
LASIK eye surgery has become increasingly popular in the two decades since gaining FDA approval in the United States as a safe and effective procedure and treatment option for the common vision problems of myopia (nearsightedness), hyperopia (farsightedness), and astigmatism. In most cases, the procedure offers a long-term replacement for glasses and contact lenses. It is a relatively fast out-patient procedure that generally takes approximately 15 minutes for each eye. Most patients can achieve 20/20 vision within a few days to a few weeks after the surgery is completed.
Dr. Michael Tracy is a board-certified ophthalmologist. He completed his residency training in ophthal-mology at the Scheie Eye Institute at the University of Pennsylvania. After completing a fellowship in Corneal and Refractive Surgery at the Bascom Palmer Eye Institute, Dr. Tracy served as a medical director at TLC Laser Eye Centers. Dr. Tracy specializes in LASIK and PRK surgery at his private practice at Carlsbad Eye Care, which serves patients from the greater San Diego area.
To contact Carlsbad Eye Care, please visit http://carlsbad-eye-care.com/ or call (760) 603-9910.