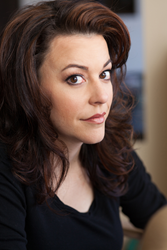 I'm deeply honored to be the staff Medium at the Magic Castle. Even since I was a child, magic has fascinated me. By being at the Magic Castle, I can fascinate guests in much the same way."
Los Angeles, CA (PRWEB) September 02, 2014
At the world-famous Magic Castle in Hollywood, California, famed Los Angeles magician Misty Lee has the unique distinction of being the first and only female staff Medium. Throughout the Magic Castle's 50 year history, Misty Lee is the first female magician to hold such a position.
"I'm deeply honored to be the staff Medium at the Magic Castle," says Misty Lee. "Even since I was a child, magic has fascinated me. By being at the Magic Castle, I can fascinate guests in much the same way."
At the Magic Castle, Misty Lee performs Houdini Séances, in which she fuses dark arts, deception, and spiritualism-based traditions and ceremonies to connect audience members with Harry Houdini. During the act, Misty Lee blends elements of Victorian spiritualism with modern close-up magic techniques to create an experience which entertains and captivates her guests.
Additionally, during Misty Lee's performance, guests can see magic wands, handcuffs, personal correspondences, and other artifacts owned by the great Harry Houdini.
"At the Magic Castle, I've been afforded the unique opportunity to perform amongst artifacts owned by Harry Houdini himself," says Misty Lee. "The séance is a fun, informative, and thrilling experience for my guests, and, as the staff Medium at the Magic Castle, I'm proud to be able to take them on such an adventure."
Misty Lee is a Los Angeles magician, illusionist, voice-actress, Séance Medium, Human Lie Detector, and expert in all things occult. When not performing at the world-famous Magic Castle as the establishment's first female staff Medium, Misty Lee is a professional voice-actress who can he heard in an array of cartoons and video games, including the award-winning games The Last of Us and BioShock Infinite. In her spare time, Misty Lee volunteers for animal rescues and has recently written and performed in "Escape," a PSA raising awareness against domestic violence.
To contact Misty Lee for a corporate performance, television appearance, magic consultation, or voice over performance, please visit http://mistylee.com/.