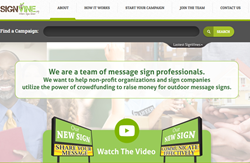 We work directly with the nonprofit, so there is no extra workload for the sign company.
Ontario, CA (PRWEB) August 26, 2014
Crowdfunding is a savvy new way to raise money, and it requires a savvy audience. Old fashion fundraising is still effective for most nonprofits, but there is a brave new world of "online investors" who love to give money and be a part of something. Crowdfunding has become a social addiction for many people, but in a good way. They can anonymously get online, seek out projects, movies, books, games, and make a donation of any size and quickly become involved in a world-wide community; and maybe get a cool trinket out of it. The group of message sign professionals who created SignVine believe crowdfunding will work for the message sign industry too, but it may take some time.
SignVine launched their crowdfunding site in March of this year and quickly found out that while they have a great idea praised by many, execution is slow-going.
"The sign industry has seen so much technological advancement that it's a real challenge for them to keep up with every new idea or tool that may come their way," stated Paul Martin, Project Director for SignVine, "So savvy new 'online' tools are slow to integrate."
He continued, "And, now, crowdfunding? Even though it has been severely effective for raising money from potato salad to medical treatments and feeding the hungry, it's going to take some time to convince or show (and educate) the sign industry how it can be effective for them."
This month, SignVine introduced a lot of new changes to help the message sign industry learn about this new trend. They revamped their site to be more of a 'donation-only site' with a lower funding fee. Now, a non-profit looking to raise money for an outdoor message sign can sign up for a free campaign, uploading their story, picture and even a video. When the campaign is over, they only owe SignVine 5% of the total amount raised. Donors can even cover this fee when making a donation.
"We took a second look at what non-profit organizations needed, and we always get directly involved in every crowdfunding campaign from beginning to end. We have a donation campaign kit to assist the campaign plan, media tools like a press release, and made the website more donor-oriented with an interactive and engaging timeline. We are pretty much the new SignVine 2.0- bigger and better!"
Sign companies are already working with non-profit organizations, so SignVine is making efforts to educate and work with sign companies to show how crowdfunding can help them close more sales. SignVine created a new brochure, a new video, and even started a new blog to further help the sign industry understand the power of crowdfunding.
"It's all an effort to help sign companies and their nonprofit clients. We work directly with the nonprofit, so there is no extra workload for the sign company. When the money is raised, we turn the client back over to them to fulfill the project."
So, whether you're a sign company looking for a savvy way to help your nonprofit client raise funds or a nonprofit organization looking to raise funds to purchase a new outdoor message sign, contact SignVine and check out the new changes or subscribe to their blog (http://www.signvine.org/blog). Visit their Website at http://www.signvine.org or call toll-free 844-807-9720.