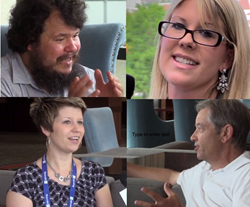 34 free special edition Innovator Interviews to boost skills and fuel ideas for teachers...
Santa Barbara, CA (PRWEB) August 27, 2014
As part of EdTech Tuesdays, a free series of weekly educational technology update videos for teachers, Lesson Planet Professional Development rings in the 2014-15 school year with 34 free special edition Innovator Interviews to boost skills and fuel ideas for teachers getting their new school years under way.
All episodes were filmed at the ISTE 2014 conference in Atlanta in June, are around five minutes in length, and will publish almost every other day from August 12 to October 20.
The series opened with Ruben Puentadura, PhD, discussing the SAMR model (substitution, augmentation, modification, redefinition) he developed to guide the use of educational technology to increase student outcomes.
An interview with Ron Reed, founder of SXSWEdu (South by Southwest Education) followed on August 14. Reed discusses applying the SXSW festival ethos, one of creativity and innovation, to "both a conference and a festival" for educators in Austin, Texas. He discusses the variety of opportunities for attendees and the "community" aspect of the event, which aims to benefit teachers and learners, locals and visitors alike.
The first week of Innovator Interviews rounds out with literacy teacher Erin Klein (August 16), who connected her elementary writing workshop with another local 3rd grade class to develop an online collaborative writing project using Storybird.com, and technology coordinator Kelly Clifford (August 18) who is spearheading 1:1 and Google apps implementation district-wide in Steuben County, Indiana.
The Innovator Interviews, along with all episodes of EdTech Tuesday, build on the essential ISTE Standards for Teachers of the International Society for Technology in Education:
1. Facilitate and inspire student learning and creativity
2. Design and develop digital age learning experiences and assessments
3. Model digital age work and learning
4. Promote and model digital citizenship and responsibility
5. Engage in professional growth and leadership
Featured individuals in the Innovator Interviews series embody and articulate the vision of effective use of technology in the classroom, with positive student outcomes at the center of every endeavor.
Future interviews include leading thinkers and practitioners in such areas as 1:1 implementation, gamification, project-based learning, flipped classroom, digital and acoustic music production, personalized learning, app development, smart robots for special education, district leadership, edtech standards development, and edtech journalism.
EdTech Tuesday is a weekly video series for teachers that features the following:

trending technology topics
teacher reviews of apps and digital tools
brief format
casual tone
teacher-to-teacher focus
anytime, anywhere access
quality production values
EdTech Tuesday typically provides an overview and educator's point of view on classroom apps, websites, management and professional organization and communication tools, and current topics and issues in EdTech application for teachers.
About the Interviewers
Rich Dixon, M.A.-TESL, brings over 19 years of experience as a teacher, administrator, staff developer, director of IT, and curriculum coordinator. Whether leading edtech courses or launching new schools, he strives to improve the effectiveness of instruction through intentional application of educational technology.
A curriculum expert and professional trainer of 19 years, Jennifer Gibson, M.A. with an emphasis in technology, has presented to thousands of educators on topics including educational technology, English language development, and literacy. In 2010, she won the Santa Barbara County Education Office Crystal Apple Teacher of the Year and Technology Innovator of the Year awards.
About Lesson Planet
As traditional curriculum departments—with thousands of resources and training staff housed in brick and mortar locations—are phasing out, Lesson Planet offers a virtual curriculum department. Busy teachers and budget-constrained schools and districts can find the supplemental materials, online curriculum support, and edtech professional development they need. Credentialed teachers provide resource reviews, ratings, and Common Core alignment with powerful search, and links to 400,000 online lesson plans, videos, presentations, and activities. With anytime, anywhere online videos and live onsite PD training, teachers and districts can customize edtech learning to meet their needs.