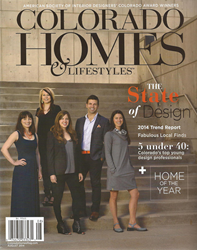 If you don't consider Colorado a design mecca, you just aren't paying attention.
Boulder, Colorado (PRWEB) August 26, 2014
Claire Jordan, a design associate with Arch11, a Colorado-based commercial and residential architecture firm with offices in Boulder and Denver, has been honored as one of the five hottest emerging talents in Colorado's residential design community. In its August 2014 issue, "Colorado Homes & Lifestyles" magazine presented its first ever "5 under 40" design awards. In addition to appearing on the magazine's website and in the August cover story, recipients were honored during a recent ceremony. "One thing is for sure: if you don't consider Colorado a design mecca, you just aren't paying attention," writes the magazine about the overwhelming response it received to honor young designers.
Jordan was selected with four other design professionals as one of Colorado's "people to watch, producing some of the most stunning and innovative work in the state," according to Colorado Homes & Lifestyles. The selection committee specifically noted Arch11 design associate Jordan's ability to "create clean, modern spaces using environmentally-conscious practices."
A Colorado native and CU graduate, Jordan finds the state a "beautiful backdrop for Arch11's projects, whether the views are the Flatirons or a 13,000-foot peak in the distance." She has served as project manager/ designer on many of the Colorado architecture firm's award-winning projects, including the Lodgepole Retreat, which operates at net-zero energy use. Jordan's Arch11 colleagues recognize that her extensive experience and knowledge of furniture and cabinetry design and fabrication has significantly contributed to the finely crafted custom residences and remodels that Arch11 is known for.
"We were delighted to see Claire Jordan recognized for '5 under 40' by Colorado Homes & Lifestyles magazine," says Arch11 founder and principal, E.J. Meade. "She is a rare designer whose knowledge and experience allow her to detail work with flawless precision. Her work combines lyrical pragmatism with a rigorous commitment to innovative design."
Founded in 1993, Arch11 has gained recognition for projects ranging from exceptional residences to institutional planning, mixed-use development, and restaurant and product design. Recent awards include a 2012 Citation Award from AIA Colorado, five 2012 Design Awards from AIA Colorado North and two from the Denver Chapter of AIA, the 2009 Firm of the Year Award from the Colorado AIA and four 2011 Builder's Magazine Watermark Awards, including Project of the Year. Arch 11's Ken Andrews also was named 2011 Young Architect of the Year and Instructor of the Year by Colorado AIA.
About Arch11:
With offices in Boulder and Denver, Colo., Arch11 has 30 combined years of green building technology leadership. The staff's unusual level of hands-on experience ranges from boat building to furniture making, contributing to its reputation for commitment to craft, detailing and design integrity. For additional information, visit http://www.arch11.com.
Contacts:
Darla Worden, WordenGroup Strategic Public Relations, darla(at)wordenpr(dot)com, 303.777.7667; E.J. Meade, Arch11, ejmeade(at)arch11(dot)com, 303.546.6868