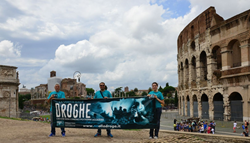 (PRWEB) August 25, 2014
Millions of tourists from around the world vacation in Italy each summer. In Rome alone, a city of over 3 million, the population swells by more than three times with visitors each year. As the last of the tourists return home, the Church of Scientology's "Say 'No' to Drugs, Say 'Yes' to Life" teams caps this summer's drug-education and prevention activities, bringing their drug-free message to local residents and tourists alike.
They distribute copies of The Truth About Drugs in busy shopping districts and at famous historic locations such as the Spanish Steps, the Victor Emmanuel Monument and the Coliseum.
Scientologists on five continents work in their communities throughout the year to empower others with the truth about drugs. The Church and its members are dedicated to eradicating drug abuse through education.
The Church of Scientology supports The Truth About Drugs initiative, one of the world's largest nongovernmental drug education and prevention campaigns.
It has been conclusively proven that when young people are provided with the truth about drugs—factual information on what drugs are and what they do—usage rates drop commensurately.
Drug abuse and criminality, intolerance and inhumanity, disasters both natural and man-made pervade and degrade every segment of society. So daunting are these issues that efforts to eliminate them are all too often overshadowed by efforts to merely contain the damage.
In recognition of the vital necessity to stem the downward spiral, the Church of Scientology and its members sponsor secular education programs that effectively curb drug abuse, instill tolerance, raise awareness of human rights and uplift morality across whole populations.
A series of video presentations have been published on the Scientology website and the YouTube Scientology channel.
To provide more information on these initiatives, the Church has published a new brochure, Voice for Humanity—Real People, Real Help. To learn more, visit the Scientology website.