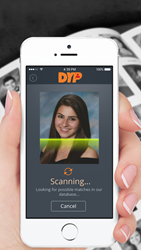 "We want to be an extension of the yearbook. The yearbook is an American tradition. We don't want it to die out. It still means something to people." - Robert Nunn
Los Angeles, California (PRWEB) September 10, 2014
Just in time for back to school season, Digital Yearbook Page Inc., a Los Angeles based startup, is excited to announce the release of DYP, an iPhone app designed to help students keep in touch. The DYP app (free in the iTunes Store) is deceptively simple. Classmates can use their phone to scan a yearbook photo. The app then analyzes the photo and presents relevant information for that person aggregated from various social media sites: age, graduating class, current location, and so on. It's not far off from the concept of adding a QR code to a physical yearbook, but without the hassle of adding all that ink and the ugly QR symbols.
DYP also allows for customization. For example, if classmates want to share information or photos with their former classmates but not necessarily all of social media, they can enter privacy-restricted tidbits into their DYP profile that only select contacts can see.
"People want to be remembered in a way they control," DYP Co-Founder Samuel Zaribian said. "Students like having control and not being under the school's guidance. They have complete ability to moderate their own account."
As the younger generation slowly moves away from Facebook Digital Yearbook Page Inc. creators realized they couldn't just automatically track down a former classmate on social media.
For the people who have already graduated from High School, there's a game function in the app called "Do You Remember?"
It's loosely based on the dating app Tinder. Basically, users see a photo of a former classmate. If they "remember" the other person's photo, and the other person remembers theirs, you'll receive a digital icebreaker.
"It's a good way to start a conversation with someone you might not send a blanket message to without a prior point of conversation," DYP Co-Founder Robert Nunn said.
Digital Yearbook Page Inc. is also building an Android version that is expected to be released within the next few months.
Download DYP for free on the App Store:
Want more info? Visit: http://www.dyp.me
About DYP (Digital Yearbook Page Inc.) DYP is a new, fun and easy way to keep in touch after graduation. We view ourselves as partners with users, students, schools and yearbook publishers. Our mission is to give every school, organization, and social club a platform to broadcast, reunite, stay in touch, and tell their own story. For more information, visit DYP at http://www.dyp.me.
Download DYP for free on the App Store at https://itunes.apple.com/us/app/dyp/id826882923?mt=8.