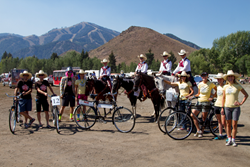 Sun Valley, ID (PRWEB) August 25, 2014
Sun Valley once again will be opening the dirt roads of central Idaho and laying out the red carpet for one of the most unique events of the summer season, "Rebecca's Private Idaho", a gravel road ride. Founded in the European tradition of the Grand Fondo, which is one part fun group ride and one part race, this event will take riders on a journey from Sun Valley's downtown Ketchum deep into the beautiful Pioneer Mountains and Copper Basin. Three route lengths will be featured: the long 95-mile Big Potato, a mid-length 50-mile Small Fry, and a new 25-mile Tater Tot length.
Hosted and organized by renowned cycling champion Rebecca Rusch, known as the "Queen of Pain," Rusch's second annual Rebecca's Private Idaho (RPI) gravel road bike race will be gracing the scenic mountain basins surrounding Ketchum, Idaho on August 31.
Hosted during Sun Valley's Wagon Days Labor Day weekend, this event joins a host of other events scheduled for the weekend which brings families and friends together for the last fling of summer. From the Big Hitch Parade, to the Pancake Breakfast to the Kids Adventure Race and more, this is an event which highlights a fantastic weekend.
Rebecca's Private Idaho has already gained momentum as a must-do event. Heralded for bringing the gravel grinding niche of road riding to the masses, it also raises funds for three important charities World Bicycle Relief, People for Bikes, and Idaho's own Wood River Bike Coalition, the regions IMBA Chapter. With sponsors such as Patron and Specialized Bicycles signed on, Rusch looks forward to hosting another philanthropic event in August.
The upcoming celebration will extend into the night with the highly praised Smith Optics "Off the Wagon Days" festival, including live music, vendors and gelande quaffing. Other holiday weekend events will be taking place around RPI, including the famous big-hitch Wagon Days parade, VIP parties, post-ride barbecues, live music from the Head and the Heart, pancake breakfasts, and much more.
To learn more visit http://www.visitsunvalley.com/events or rebeccasprivateidaho.com.