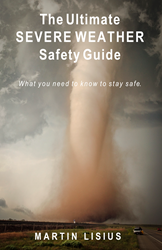 Severe Weather Safety Guide that can save your life.
Arlington, Texas (PRWEB) August 26, 2014
He's best known for his beautiful and dramatic cinematography of some of the planet's most spectacular weather, including Hurricane Katrina making landfall, and the world's first ever tornado captured on 3D video. Martin Lisius is the man Hollywood calls when they need high-end motion picture footage of dangerous storms. He's also a person committed to severe weather safety, and produced "StormWatch," a video utilized nationwide by the National Weather Service to train storm spotters.
Last month, Lisius released his new book "The Ultimate Severe Weather Safety Guide" on paperback, Kindle and Nook. Now, it is available through the iBooks app on iPad and Mac. "This new version of the guide is the very best because it offers video for the reader," Lisius said. "The ability to see tornadoes, hurricanes and other extreme weather in motion, and hear the sounds, really adds a new dynamic to the book."
For Lisius, saving lives is what it's all about. "I want people to understand, and even appreciate severe weather, and know how to deal with it when it threatens," he said. "My book was intended to arm the reader with information and insight that will help to protect them and their families from very survivable risks."
In the book, Lisius addresses lightning, hurricanes, tornadoes, flash floods and other hazards, and divides each chapter into "prepare, monitor and act." It's a methodology he feels can save lives.
The Ultimate Severe Weather Safety Guide" by Martin Lisius is currently available in paperback (76 pages) and on Kindle (83 pages) at Amazon, and on Nook (64 pages) at Barnes & Noble. The iBooks version (61 pages with video), is available at the iTunes Store.
About the Author:
Martin Lisius is a veteran storm chaser, producer, director, and cinematographer. He is sometimes called "The Storm Whisperer" because of his intimate knowledge of severe weather. Lisius has produced several documentaries about storms, including "The Chasers of Tornado Alley" and "Chasing the Wind" for public television. He produced "StormWatch" for the National Weather Service who uses it to train storm spotters nationwide, and founded the Texas Severe Storms Association (TESSA), a non-profit organization dedicated to severe weather education. In 1993, he established StormStock, a collection of premium and rare storm footage and stills, and now one of the oldest stock image brands in the world. You can see storms shot by Lisius on the Discovery Channel, National Geographic Channel, and in TV commercials and theatrical features including "Son of God," "Into the Storm," and "Lucy" (all 2014 releases). In 2000, he founded Tempest Tours Storm Chasing Expeditions to reveal and teach the wonders of storms to guests from around the world. And, in 2014, Lisius established the SAFE-D Tornado Project to develop a safer way to study tornadoes in the field.
Book Basics:
Title: "The Ultimate Severe Weather Safety Guide"
Author: Martin Lisius
Publisher: Prairie Pictures
First Published: July 2014
Formats: Paperback, Kindle, Nook and iBooks
Contact:
Kim George, kimgeorge(at)prairiepictures(dot)com, Tel. (817) 276-9500