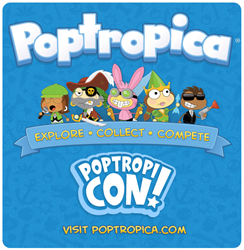 This new Poptropica Island series is full of some serious, creative fun as players immerse themselves in the wild world of a fan convention.
Boston, MA (PRWEB) August 28, 2014
Today, Poptropica opened PoptropiCon, the hottest ticket in town. An episodic quest, available now to Poptropica Members with Early Access, PoptropiCon is the biggest sci-fi and fantasy convention in Poptropica. The first episode of the site's 40th Island, "Line Forms Here," will become available to the public on September 18, 2014, and will be available on the Poptropica App in the near future.
When players arrive at the sold-out PoptropiCon, they will quickly discover that the most important thing isn't what you do – it's how you look doing it. It will take all of their wits and more than a few disguises to crash the party. Players will need to creatively use one of Poptropica's most popular features, the Costumizer, to smartly advance through Poptropicon.
"This new Poptropica Island series is full of some serious, creative fun as players immerse themselves in the wild world of a fan convention," said Jess M. Brallier, publisher of Poptropica. "Our 40th Island brings a unique theme to kids as the next installment in the many wonderful stories that we have published over the past seven years."
Poptropica Members have access to two Members-Only costumes, fan-made outfits Game Show Island and Lunar Colony. In addition, Members get a Gold Card for a personalized, printable poster that lets them print their Poptropican as one of the greatest superheroes of all time.
Hundreds of millions of kids have visited Poptropica since its launch nearly 7 years ago, and the number grows every day. Poptropica players come from more than 200 different countries and territories and have their web browsers set to more than 100 different languages.
Kids can stay up to date on news about upcoming new Islands and other exciting developments in the world of Poptropica on the official Poptropica blog. Parents can keep up to date on new Island releases and features on Poptropica by following the Poptropica Creators on facebook.com/OfficialPoptropica, plus.google.com/+poptropica, or at Twitter.com/poptropica
About Poptropica (http://www.poptropica.com)
Poptropica is a virtual world in which kids explore and play in complete safety. Every month, millions of kids from around the world are entertained and informed by Poptropica's engaging quests, stories and games.
Kids create a "Poptropican" character to travel the many Islands of Poptropica and use gaming literacy to enjoy a narrative that is often rooted in factual history. Problem-solving skills are honed as kids discover and solve mysteries unique to each Island.
There are always new areas to explore in this ever-expanding world where kids can collect objects, read digital books and comics, watch movies and compete in head-to-head competition. Parents can always trust that their children are playing – and learning – in a safe online and mobile environment.
Poptropica is published by Pearson, the world's leading learning company.