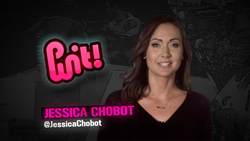 Pwnit! is a new social platform for gamers made by gamers. We are thrilled to have Jessica on board to introduce Pwnit!
Los Angeles, CA (PRWEB) August 26, 2014
Pwnit! (http://www.pwnit.com), the greatest online video sharing platform for gamers, is excited to debut a new video that shows players how to participate and win. Starring industry veteran and popular Nerdist.com host, Jessica Chobot, the video gives gamers a more in-depth look into the new social platform while providing tips. Jessica demonstrates how easy it is for players to submit their favorite video game clips to Pwnit! Ladders (weekly contests), vote on videos from players around the world, and win big prizes.
"Pwnit! is a new social platform for gamers made by gamers; therefore, creating a community is extremely important to its success. We are thrilled to have Jessica on board to introduce Pwnit! to a larger audience of gamers," said Shane Vorster, founder of Pwnt!, Inc. "Pwnit! is simple in nature - it's a forum to share your greatest gaming moments, while watching and voting for your allies and friends. But the kicker is you also get an opportunity to win big prizes just by being an active participant."
The Pwnit! open beta is now live and continuing to gather feedback from the core gaming community while growing rapidly. With thousands of users posting videos, voting for their favorite clips and winning big, Pwnit! is happy to report a growing roster of triple-A games that have been added to ladders over the summer. The latest have players competing against each other's action-packed clips from Respawn's Titanfall™ for a chance to win Turtle Beach's official Ear Force® Atlas headset. Other top Ladders include Koei Tecmo's Dead or Alive® 5 Ultimate. Prizing is individually crafted around each ladder and includes hardware, games, and DLC direct from the publishers and partners.
If players don't feel like submitting their own clips, they can still watch, vote, make allies, and win big. Each month, anyone that votes also gets entered into a monthly drawing where they have the opportunity to win sweepstakes prizes.
Pwnit! was created by game industry and entertainment veterans who understand the importance of social and sharing across gaming communities. Feedback from users is incredibly important to continuing to enhance the Pwnit! experience; a new poll is now live on the site, asking gamers which Ladders they want to see and what they'd like to see as the platform grows. Sign up today and to learn about the latest ladders, winners, and prizing, follow @Pwnit on Twitter.
About Pwnit!:
Pwnit!® is an LA-based startup with a single mission – to create the number one online destination for rewarding amazing gaming moments. They have created a unique video-sharing social platform at http://www.pwnit.com where gamers create profiles and upload their best videogame clips, which can be shared with friends across other social networks and also entered into weekly themed ladders. Pwnit! players vote for their favorite clips, with the most popular videos winning prizes.
For media inquiries, please contact:
Melody Ann Pfeiffer
pfeiffermelody(at)gmail(dot)com
(415) 297-9590