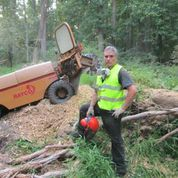 If a picture is worth a thousand words, then a tree video is worth a million.
Wayne, PA (PRWEB) August 27, 2014
Murphy's Tree Service in Wayne, PA will have a week without its arborist, Daniel Murphy, the week after Labor Day. Murphy will join dozens of other arborists from around the country for the annual "X Week" gathering in Bel Air, Maryland. This event, hosted by David Driver of Arbor X Inc. in Bel Air, will bring together the rock stars and the bad boys of the highly competitive and often dangerous profession of tree care to discuss technique and philosophy, and to review the latest jaw-dropping videos. These world-class tree climbers and chainsaw masters are often considered the Green Berets of the contracting world. The attendees at X Week are the men who are called to remove difficult and dangerous trees in situations when others would walk away. And they have earned their fame not from competing in industry championships, but from the videos of their work that they produce and publish on YouTube.
As David Driver explained, "Before online forums were available, tree climbers were very isolated in their practices. The vast majority of arborists had never been to a conference, read a trade magazine, or seen any training material. They learned the trade from whatever company they happened to work for and continued using those practices for their entire careers. Training was very limited, and the result was that tools and techniques evolved at a snail's pace for decades." But with the advent of online forums, particularly in the early 2000s, arborists began watching and adapting techniques from rock climbers and cavers. "Those were fun days," said Driver, "but even with the ability to converse with arborists from around the world, we were still limited by the difficulty of articulating with words our very complex and dangerous techniques."
"If a picture is worth a thousand words," states tree climber Daniel Murphy, "then a tree video is worth a million." In the late 2000s, arborists from all over the globe began posting videos of their work on YouTube, and a revolution in awareness began. Language and distance barriers were immediately transcended. Anyone could watch amazing feats of climbers dismantling 300 ft. dead gum trees in Australia and technical rigging in tight spots from England to New York City. And like most subjects on YouTube, there were a lot of novices posting relatively boring videos of "man cuts branch, branch falls to ground." But in time, a small minority of chainsaw-toting videographers began to attract large followings. This small handful of highly skilled tradesmen was able to show in great detail the skills and equipment needed to remove large and threatening trees.
Murphy himself has an eclectic library of videos available on YouTube, and they show everything from advanced cutting techniques and extreme precision in falling, to safe and correct pruning, climbing and safety lessons for the inexperienced. Owner of two small companies, Murphy's Tree Service in Wayne, PA and Stump Munchers in Newton Square, PA, Daniel Murphy is also one of the most controversial figures in tree world. His innovative techniques for cutting and rigging, demonstrated in his videos, have caused heated debates to rage for weeks in the online arborists' community. "I didn't realize my methods were different until I uploaded a few videos," said Murphy. "I got a lot of negative feedback. People called me a reckless, suicidal maniac, and of course, lucky, lucky, lucky. It took three years and a hundred videos for my peers to realize that luck had nothing to do with it."
Many of the techniques that were once considered revolutionary in the industry are now common practice, thanks to the energy and creativity that have gone into the making of videos for arborists. The X Week event in early September will create the opportunity for many of these innovators to meet face-to-face for the first time. Attendees must leave their chainsaws at the door.
About Daniel Murphy:
Daniel Murphy is an ISA certified arborist with 30+ years of experience, a published author, and has been on the cover of Tree Care Industry magazine twice. He claims to have learned his trade from one of the best tree climbers in the world, and he continues to search for better ways to work with dangerous trees. Videos of his work illustrate the level of skill and daring that are often involved when dealing with trees.