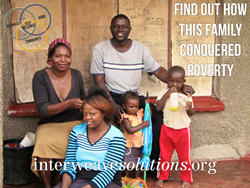 The first training to use Interweave's newly-revised manuals and faster participant learning and retention.
Provo, Utah (PRWEB) August 28, 2014
A micro-entrepreneur group was trained by Lynn Curtis, PhD, in the proprietary Interweave model that fosters self reliance and small business success in developing communities. Because of the great success in this group, there are hopes to expand into all of Quito. A meeting with Quito's Minister of Economic development is pending. The hope is for Interweave training to reach 500 groups totaling 16,500 individuals.
The Interweave objective is to help solve poverty through helping communities solve their own problems, through small business creation and strengthened family and community values.
Lynn was using new, improved materials. Lynn reported, "What an amazing weekend this has been. For six hours Friday 7 to 9pm and Saturday 5 to 9pm, Diego Lizano and I completed training of 45 leaders and facilitators... from Prosperino, Guayaquil, Ecuador. The first training to use Interweave's newly-revised manuals went extremely well, with improved and faster participant learning and skill retention."
With enough funding, 5,400 people in Ecuador can be trained and provided with self-reliance and business creating manuals to match. Contributions can be made directly to the Ecuador project here: https://www.interweavesolutions.org/countries/ecuador-1. To date, $6,000 of the necessary $35,000 has already been raised.
"This first training went extremely well... in fact, ranked exceptionally among all of Interweave's launches and trainings that have ever taken place," says Lynn. "It was reminiscent of a similar extremely successful launch program in the Congo years ago," he adds.
Weekend trainings, launch events, and more training sessions like these are already scheduled for the rest of August, September, and October. Interested parties can help the process by contacting Lynn Curtis at 435-553-4773.