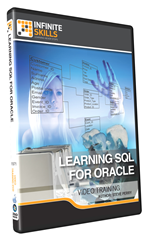 Learn SQL for Oracle at your own speed
(PRWEB) August 26, 2014
Software training firm Infinite Skills this week introduced its "Learning SQL for Oracle Tutorial," an introductory course focusing on using SQL to manage data within an Oracle database.
SQL is a special-purpose programming language designed for defining, modifying, and controlling the data in a relational database. SQL is primarily a declarative programming language, but does include some procedural elements which are enhanced in Oracle's own PL/SQL language that issues SQL within an Oracle database.
Infinite Skills' "Learning SQL For Oracle Tutorial," is designed to introduce the major aspects of working with SQL itself, teaching how to query data, manipulate data, create database objects, and secure the database, providing a solid foundation for advancement into working with PL/SQL's procedural functionality.
Learning SQL For Oracle Tutorial - Streaming Video
Course author Steve Perry started full-time in IT in 1977 as a mainframe COBOL programmer. He moved into Windows programming and database technologies in 1994, and began in web development in 1997. Perry became a full-time instructor in 2001, and taught at the university level as well as in corporate training. He is an expert in both PHP and Java.
Following an introduction explaining the big picture of using SQL with Oracle Apex, Perry begins with the basics, demonstrating how to use the select statement to retrieve data and sort results. He then demonstrates how to restrict data using a primary key, operators, and null values, and moves on to joining tables and using functions to aggregate and summarize data.
The course then builds on this basic functionality as Perry demonstrates advanced concepts such as data subsets, adding advanced operators to further restrict data, and working with subqueries.
Other chapters cover important concepts such as data modeling, manipulating data, working with string functions, and database management.
"Oracle SQL does everything that needs to be done with Oracle's relational database," Perry explains. "It allows you to query data, manipulate data, create database objects, and handle security.
"This class introduces you to most Oracle SQL constructs. I'll provide demonstrations and explanations of the code, and give you chances to practice and check your work."
Free demo videos and a full list of course contents can be found on the "Learning SQL For Oracle" training page of the Infinite Skills website:
http://www.infiniteskills.com/training/learning-sql-for-oracle.html
Infinite Skills offers its Learning SQL For Oracle Training Video either as a DVD or a direct download from the company website at a retail price of $99.95, or as part of the company's subscription streaming service offered at a rate of $25 per month. Though the compatibility of programs varies, all Infinite Skills titles and formats are compatible with both Mac and Windows operating systems, and shipping is available around the globe. Additionally, Infinite Skills tutorials are supported by project files which correspond to examples in the videos.
About Infinite Skills Inc.
A leader in the field of software training, Infinite Skills designs its courses on a task-oriented model, teaching complex skills by providing hands-on examples and guiding users as they carry out essential functions. Infinite Skills offers a wide range of software titles available as DVDs, digital downloads, and in iPad editions. Infinite Skills now offers a subscription service, providing access to all its training content for a monthly fee, keeping with company's aim of delivering professional training to customers anywhere they want to learn.